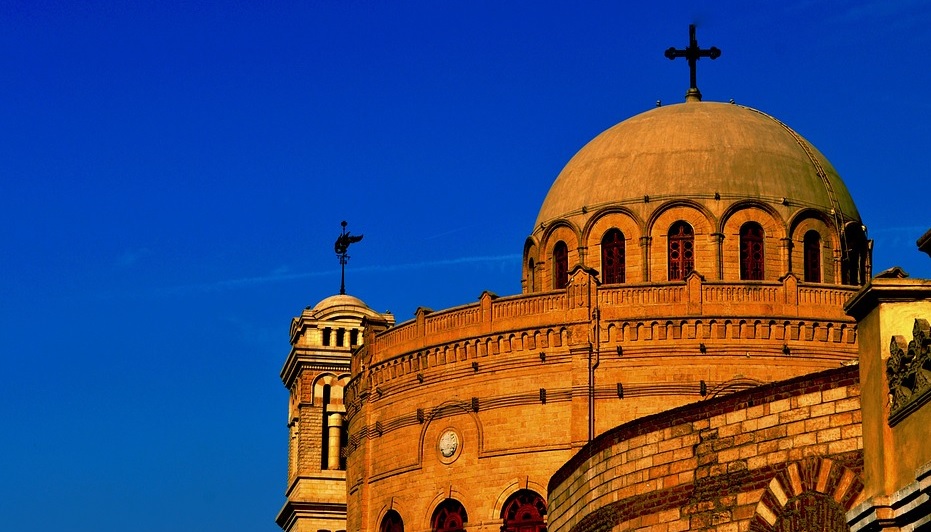 Coptic Solidarity,
Rep. French Hill (R – AR) introduced a resolution, H. RES.49, expressing support for Coptic Christians and religious liberty in Egypt with co-lead Rep. David Cicilline (D-RI) and an additional 11 other cosponsors on January 16, coinciding with Religious Freedom Day. Coptic Solidarity strongly commends Reps. Hill and Cicilline for continuing to champion equality and religious freedom for the Copts of Egypt in an equitable, tangible, and realistic manner. Coptic Solidarity urges all U.S. Representatives to support human rights and religious freedom for Copts and all Egyptians by cosponsoring the resolution.
Photo: Protests have resulted in multiple church closures in Minya, Egypt (C) Copts United
Congressman Hill stated "Egypt and the United States are important partners in the fight against terrorism. However, we must confront the reality that Coptic Christians in Egypt do not receive the same protections under the rule of law as others. I have been on the front lines of this struggle and met with government and religious leaders throughout Egypt. While we have seen progress from Egyptian President el-Sisi, the U.S. government must use the tools it has to hold our allies to a higher standard if they are to continue to receive our aid."
Coptic Solidarity strongly urges all concerned individuals to send messages to their U.S. Representative through Coptic Solidarity's website asking them to cosponsor this resolution. A sample letter is provided, and once signed it will be delivered directly to the correct Congressional office based on the sender's address. Gathering the maximum number of cosponsors is a critical step to show sufficient support for the resolution to be marked-up in the Foreign Affairs Committee and then scheduled for a full floor vote.
Members of the US administration and a high -profile delegation visited Egypt for the opening of the Nativity Cathedral in Egypt's new administrative capital. Many referred to this building as a "gift" from the Egyptian government, lauding the state of tolerance and religious freedom in Egypt. In reality, the cathedral was paid for by private donations from Copts. Additionally, a January 15, 2019 report stated that the Egyptian government continued its policy of arbitrary church closures, with four churches closed in the previous four and half weeks.
The introduction of H. RES. 49 is critical given Egypt's increasingly authoritarian environment in which minorities suffer. A recent report ranked Egypt the third most likely country to witness genocide. Co-sponsoring and passing the resolution will send an important message to Egypt's government that the US Congress cares about the state of human rights and religious freedom in Egypt, and is willing to address it, while simultaneously acknowledging positive steps.
Coptic Solidarity is an organization seeking to help minorities, particularly the Copts, of Egypt and we support those in Egypt working for democracy, freedom, and the protection of the fundamental rights of all Egyptian citizens. It advocates in cooperation with the affiliated organizations in Canada and in Europe (Solidarité Copte). For more information, contact Lindsay Griffin at 801-512-1713 or coptadvocacy(at)copticsolidarity(dot)org