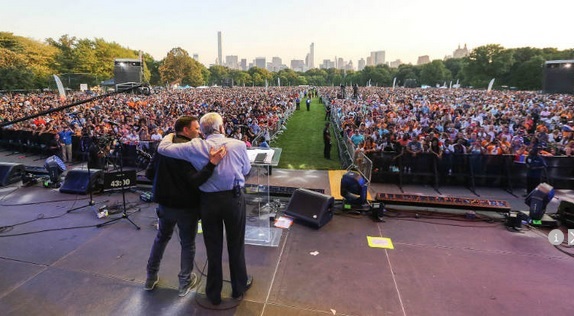 By Luis Palau Association,
It's been a few months since we've given you an update on Dad. Thank you for your continued prayers. He just went in recently for new blood work and scans to check on progress.
Sadly, the news was not what we had hoped. Although his blood work continues to look great, the doctors confirmed the tumor has begun to grow once again. This comes after several months of very positive response to the immunotherapy treatments.
As a results, the doctors are switching to a new treatment plan and we'll monitor progress closely.
Dad is still in great spirits and is quite active. In fact, he recently headed down to Sacramento, California to speak at a wonderful church there. He's also just come off a busy week with our team, discussing plans for our entire year of outreach including festivals in Abidjan, Côte d'Ivoire; Madrid, Spain; Swansea, Wales; Tyler, Texas; and Cape Town, South Africa. My brother Andrew will be the lead evangelist for each of these campaigns, although Dad is still hoping and praying he will be healthy enough to take part in the Madrid Festival in June.
Also included in plans for ministry this year is the release of Dad's most recent book – Palau: A Life on Fire (Zondervan, June 2019). We're also eagerly anticipating the release of a major motion picture on Dad's life. You can read more about it and watch the trailer at www.palauthemovie.com. It's set to hit theaters throughout the United States and Latin America on April 6.
Please keep praying. We continue to trust the Lord for Dad's well-being and thank God daily for the time we have with him.