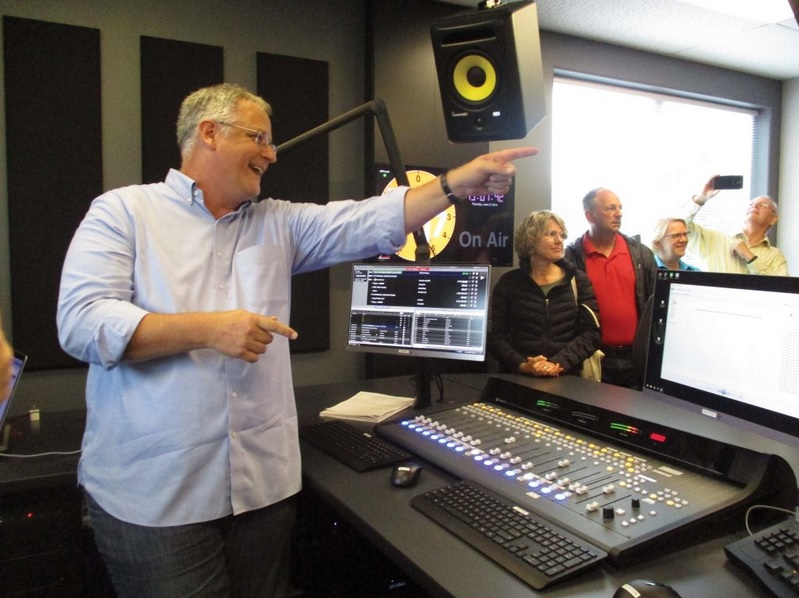 By JOHN FORTMEYER,
Christian News NW,
Subscribe
WILSONVILLE — When about 25 people gathered excitedly in a just-renovated room here weeks ago to witness the start of something new, the singular purpose behind it all was made clear.
"This is not about you, this is not about me," David Harms, president of non-profit radio station-soon-to-be-network Worship 24/7 told them. "This is about the God who made you."
As its name indicates, the nonstop Internet stream that began from the new studio June 27 — and which also will soon begin on terrestrial radio — is unquestionably focused on worship of Jesus Christ. Featuring a round-the-clock flow of 27-minute worship music segments, the programming is hosted, according to Harms, not by disc jockeys, but by "worship facilitators." Their goal is not only to see listeners' relationship with God deepened, but also to see them prompted to better reflect His love to a needy world.
As the station website, www.worship247.com, states: "The mission of Worship 24/7 is to ignite a passion for God through worship that results in a life of generosity, discipleship, evangelism and service."
"There will always be an (on-air) connection to a service organization," Harms explained. "You are called to action."
The station is housed in offices adjacent to another business venture of Harms, i58:10 Media. Taking its name from Isaiah 58:10, it raises funds for Christian ministries through radio, video and Internet. He founded the business 11 years ago after operating — also for about 11 years in Wilsonville — a similar firm called The Idea Agency that he eventually sold.
A broadcasting major back in college, Harms earlier worked in radio in Pennsylvania, Ohio and Michigan before coming to Portland in the 1990s to manage KLVS Christian radio, now 1330 AM KKPZ.
With Worship 24/7, Harms is directly managing a radio station for the first time in 22 years.
"It's a blast," he said.
But unlike traditional stations that first broadcast conventionally over the air and then developed Internet streams, Worship 24/7 is taking an opposite course — beginning with an Internet presence and aiming to then expand to regular radio. The first such step is in the works — having Worship 24/7 carried nightly from 7 p.m. to 5 a.m. on Albany radio station KHPE-FM "Hope 107.9." An agreement has been worked out with that station's management and the overnight broadcasts will start as soon as technical issues are resolved.
But Harms' vision is greater — for a full network. "As God provides, we will buy radio stations," he said.
In the meantime, Harms has seen God's provision in getting Worship 24/7 going less than a year after the nonprofit was formed. Thanks to an anonymous $100,000 donation, the offices, studio and needed equipment were secured.
But even more exciting, he said, are the top-level professional people who have stepped forward — thus far entirely on a volunteer basis — to get things going and to have the ministry sound as professional as possible.
Overseeing the technical needs are two radio veterans — Bryan Hubert of Yakima, Wash. and Scott Michaels of Duluth, Minn., both of whom were present for the station launch.
Two of the program hosts are on air remotely from elsewhere in the nation, while the third is local. Lisa Willliams, longtime former morning show host on the K-LOVE radio network, is in Denver, Colo.. Christina James of Texas has experience working at WRBS "Shine FM" in Baltimore, Md. and KCBI in Dallas. Rounding out the on-air trio is Jake Schwein, worship pastor at Grace Chapel in Wilsonville.
"The high level of professionalism is just national caliber," said Harms.
Led by Harms, a countdown by all present on that June evening preceded the initial moments of broadcast. But the station started with virtually no advance promotion, prompting Harms to quip that "if we have 12 people listening right now, I'd be thrilled."
Technical records later indicated that actually 56 people were listening to the station launch. But there has been steady growth since. By one month later, 1,069 people had downloaded the Worship 24/7 app — the station is available on all popular digital platforms — and the cumulative number of listeners had grown to 3,262.
And they come from everywhere. Harms ticked off a list of the nations that have accessed the stream: "Uganda, Macau, Korea, the Maldives, Austria, Cameroon…."
He said the decision to have a worship music format is in response to listener surveys within the Christian radio industry.
"All the research shows that people want worship music," Harms said. He said that is especially true among millennials — those who reached young adulthood in the early 21st century.
That trend, for example, prompted the national Air1 radio network to switch last January to a worship music format. But Harms said Worship 24/7 is not seeking to compete with any other broadcasters, but to meet a need with a unique programming approach that gives listeners an uninterrupted "flow" from one piece of worship music to another.
Harms said Worship 24/7 is a reflection of his belief that a spiritually needy society is desperate for answers: "The world's broken. It needs Jesus. We have to be bold."