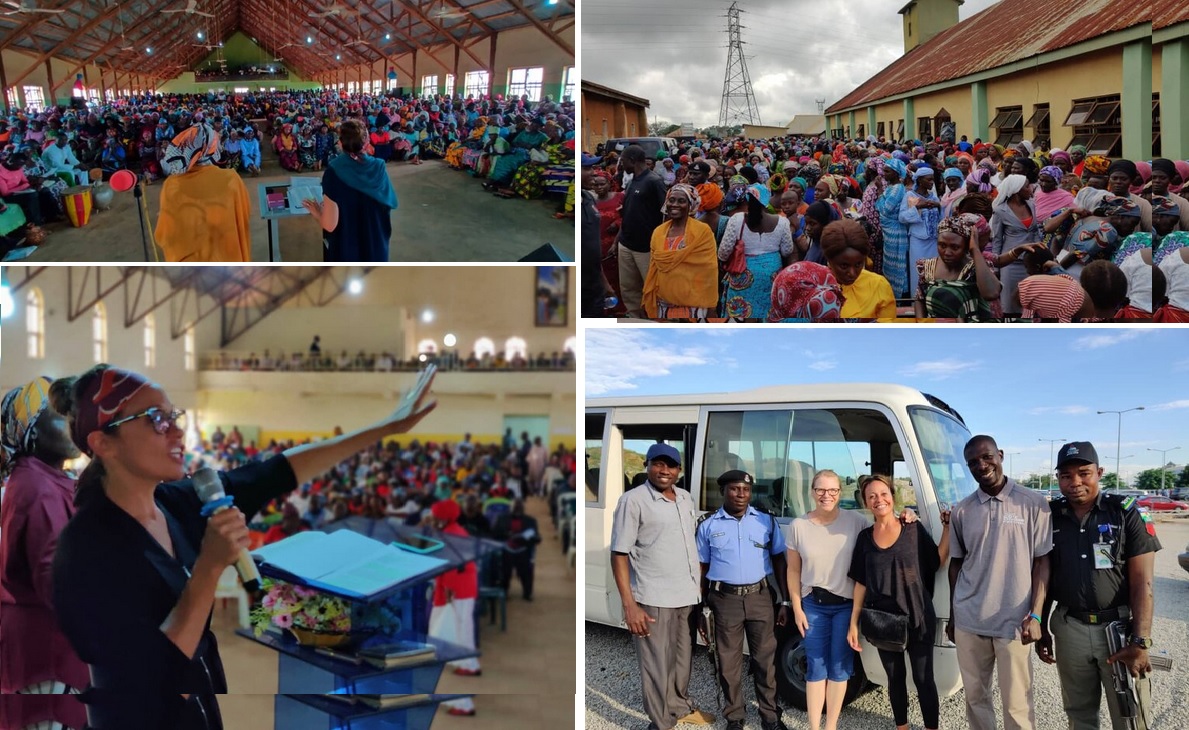 Luis Palau Association,
International ministry based in Oregon
At the invitation of faith leaders in Nigeria, as well as long-time ministry partner Firm Foundations in Christ Ministries (FFICM), Wendy Palau – wife of international evangelist Andrew Palau and daughter-in-law to Luis Palau – spent a week ministering to hundreds of displaced people in IDP camps just outside Jos, Nigeria, and training local pastors and leaders in evangelism and discipleship.
This specific outreach in Nigeria was focused on more than 600 displaced people living in an IDP camp just outside Jos, Nigeria. Many of these individuals were driven out of their homes and villages amidst recent tribal violence. The plan was to provide food, Bibles, and building materials for 600 women and children living in a few IDP camp on the outskirts of Jos. Yet as word got out, more than 1,000 women and children from 10 IDP camps made their way to the outreach. More than 75 people rededicated their lives to God or made first-time commitments to begin a relationship with Him. The team of 40 women that FFICM trained to do follow-up now have their work cut out for them as they work to connect with all those women and help build a firm foundation in their relationship with God.
While in country, Wendy Palau also took part in an FFICM conference for 3,000 local evangelists and church leaders, hoping to encourage and support them as they pray and dream about their role in their ongoing work in Nigeria.
"As many of our friends know, Andrew and I have completely fallen in love with Africa," Wendy Palau said. "We have given so much of our lives to this wonderful land – sharing the good News of Jesus with its beautiful people. And now, I'm so excited to be able to return to Nigeria this month. Not only were we able to serve women and children who have been run from their homes, we were also blessed to be able to encourage and empower local leaders and evangelists in their own ongoing evangelistic work."
For years Wendy has been sharing the hope of Jesus through telling her powerful story at a variety of outreach events in Palau Festival cities around the world. This trip to Nigeria was her first trip as the lead evangelist.