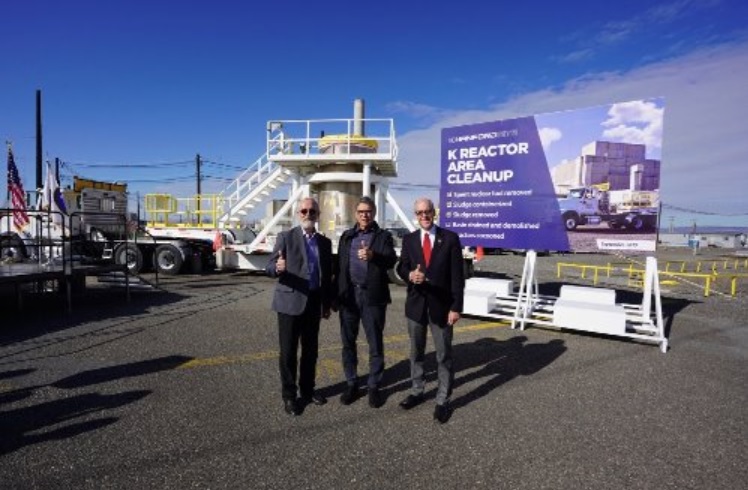 Congressman Greg Walden,
photo: Rep. Walden, Rep. Newhouse, and Secretary Rick Perry gather for a picture at the Hanford site.
During an Energy and Commerce Full Committee markup, Representative Greg Walden (R-Hood River), the Republican Leader of the committee, led efforts to advance legislation that would ensure nuclear waste stored at Hanford can be cleaned up and stored off-site in a permanent location. The Nuclear Waste Policy Amendments Act of 2019, which passed full committee markup, makes needed reforms to nuclear waste policy and ensures safe, permanent storage of waste at Yucca Mountain. Congress first designated Yucca Mountain as the key storage facility in 1978 after scientists found it could safely store nuclear waste for one million years.
Walden and the Republican Leader of the Energy and Commerce Subcommittee on the Environment and Climate Change John Shimkus (R-IL) put out a joint statement on the committee passage of the bill:
"We are once again acting in a bipartisan way at the Energy and Commerce Committee to protect the 121 communities and 39 states across America where nuclear waste sits idle. The Nuclear Waste Policy Amendments Act ensures that we are following science and the law, both of which say that Yucca Mountain is the solution to the country's nuclear waste problem. By advancing this bipartisan bill today, we are one step closer to delivering on a long overdue promise to address this national issue. Now, it's time to swiftly pass this legislation through the House and Senate and get it to President Trump for his signature. We are committed to seeing this through for the American people," said Walden and Shimkus.
Currently, nuclear waste is stored at numerous facilities in 121 different communities across the country, including near the Columbia River at Hanford in Washington. Cleaning up the 56 million gallons of Cold War-era nuclear waste at Hanford and ensuring a permanent long-term storage location for that waste has long been a priority for Walden. Earlier this year, Walden joined then Department of Energy Secretary Rick Perry and Representative Dan Newhouse (R-WA) in Hanford to celebrate the transfer of nuclear sludge away from the Columbia River and into the T Plant located farther away from the river. However, this storage is only temporary until it can be moved to Yucca Mountain.
Walden also brought Secretary Perry out to eastern Oregon and eastern Washington in 2017. They toured the hydropower facilities at McNary Dam and toured the Hanford Site, including the nuclear waste vitrification plant that is under construction to turn high level nuclear waste into glass for transport to long term storage. The Nuclear Waste Policy Amendments Act of 2019 will help ensure that waste has a final resting place, away from the Columbia River and nearby communities. Last year, Walden helped lead passage of similar legislation in the House, but it failed to pass the Senate by the end of the year.