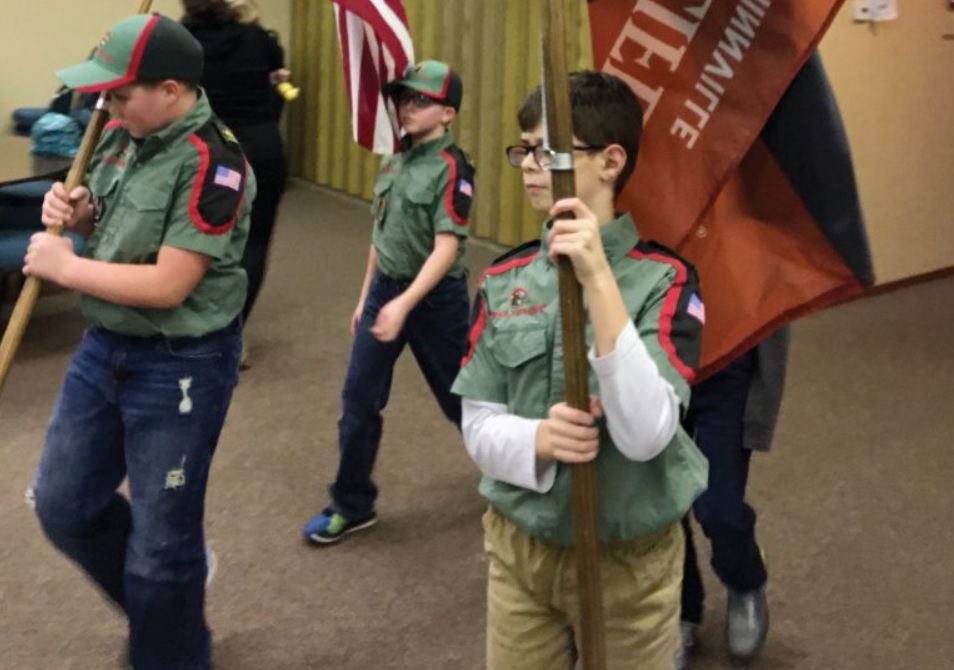 By Christian News NW Newspaper,
Subscribe
A small blond-haired boy wearing a black and neon green jacket laughs as he darts around the fellowship hall. He dodges under tables and fumbles his way around padded chairs, stopping only momentarily to look around. Then, his eyes flash — and off he dashes again.
By the time the rest of the boys arrive, 7-year-old Jonah Sanders has burned off some energy and takes a seat alongside the other young men waiting for the Monday night meeting to begin.
Welcome to Trail Life USA, a scouting program that plays to the strength of boys' need to be active.
The Christian organization emerged in 2013, in response to the Boy Scouts of America's, now known as BSA, decision to lift the ban on homosexual members. Like the American Heritage Girls program, created in 1995 as a Christian alternative for girls by those who felt that Girl Scouts of the USA had become far too liberal, parents and troop leaders dissatisfied with BSA set out to create a new boys' program that more closely aligned with their Christian beliefs.
The new organization's founders received support and encouragement from the older, already successful American Heritage Girls program and the two continue to have a close relationship nationally.
Trail Life flourished as its secular counterpart, the 109-year-old BSA, welcomed gay leaders in 2015, allowed younger girls to participate in Cub Scouts in 2018 and opened membership to girls of all ages in 2019.
The changes that have occurred with BSA may have contributed to that organization's financial problems, and it last month filed for bankruptcy protection. Facing mounting legal costs from defending itself against lawsuits alleging sexual abuse of boys, the nonprofit sought Chapter 11 protection in a court filing early Feb. 18.
In the same way that parents withdrew their daughters from Girl Scouts to join American Heritage Girls, Christian families flocked to the new boys' scouting organization.
Former McMinnville Cub Scout leader Christina Malae's family was one of them. Frustrated with the direction BSA had taken, she started researching faith-based scouting opportunities and discovered Trail Life USA.
The organization, founded by a group of concerned parents and headed by Eagle Scout and former Scoutmaster John Stemberger, is headquartered in Greenville, S.C..
"It had the same core components of leadership and skill building through adventure that Boy Scouts had," Malae said.
In addition, its mission included an emphasis on adult men teaching boys to lead with integrity, serve others and honor God.
"It seemed like a good fit," Malae said. So, she set out to find a troop.
While Trail Life has more than 800 troops scattered across all 50 states, including 17 in Washington and 11 in Oregon, she was disappointed to find the closest one to her was 40 minutes away in Salem.
After talking with other local Christian parents who were unhappy with BSA's direction, she created a Facebook page. "It was just a 'hey, how many other families would be interested if we started something like this,' " she said. Knutson, pastor of St. John Lutheran Church in McMinnville and the father of a young boy himself, saw the social media page and asked if they had a sponsor. After learning they did not, he talked to his church about chartering a troop. "They thought it would be a very good thing to have," he said.
Knutson stepped up to serve as liaison and chaplain. Malae became the committee chair. Other parents, including former BSA leaders, eventually joined them. McMinnville's Troop OR-7412 held its first meeting in January 2019 and now has 24 young trail men in its ranks.
Though the national organization guides local clubs, each troop has the freedom to express the individual values that exist within the sponsoring organization, Knutson said. "The troop is a ministry of our church," he said. Like all Trail Life troops, membership is open to any boy. However, adult leaders must be Christians who are active in a local church.
Point man David Wendell, who oversees the Oregon and Southwest Washington districts' troops, explained the group's purpose. "Trail Life is a way for young men to grow in their relationship with God and prove their manhood in an outdoor environment. It equips them to "Walk Worthy," he said, referring to the program's motto based on Colossians 1:10.
"We take a carrot-cake approach," he said. "Carrots are good for you — but this is not Sunday School. We are not giving kids a pile of carrots and saying, 'Here, eat this,' or even, 'Here, eat some on the side.'" Rather, the entire program is imbued with the Word of God. "Even the practical skills the boys gain are tied to our Christian beliefs and designed to spur on their faith."
It prepares young men to be godly leaders, which in turn also helps them mature spiritually.
Helping the younger boys with projects and assisting the chaplain has helped Alex Fernandez, 15, get comfortable with what it looks like to mentor youth, Malae said. He hopes to be a youth pastor one day. "(Trail Life) has brought me close to the Word of God," he said.
Liam Malae, 14, serves as first officer in the McMinnville program. "I am a leader of the troop and I can help younger kids with their faith. It's helping me grow with my faith as well," he said.
His mother said Trail Life has turned out to be just what she was looking for in a scouting program. "It buttresses boys in all spheres of life, giving them a true north, a compass to guide them," she said. "That's what we are trying to build within their hearts, is that hope and faith."
The organization strikes a great blend between maintaining the faith components of the program and keeping the boys active outside, she said. They've played outdoor games, skinned snakes, gone on hikes, done bell ringing for the Salvation Army, gardened and marched in parades, among other things. Future events planned are a sleepover at the submarine at OMSI and working on habitat redesign and trail cutting for a local nature park.
It's all been good for her 10-year-old son Peter. "I like the activities we do. We're learning, but, well, it's fun, even though we are learning," he said. "And sometimes learning isn't fun," he explained.
Jonah is happy being part of the troop, too. "I like it. We get to do fun activities once in a while, like freeze tag," he said before scampering off to join his patrol.
Those interested in starting up a troop or learning more about Trail Life USA, or its sister organization, American Heritage Girls, can find more information at traillifeusa.com and americanheritagegirls.org