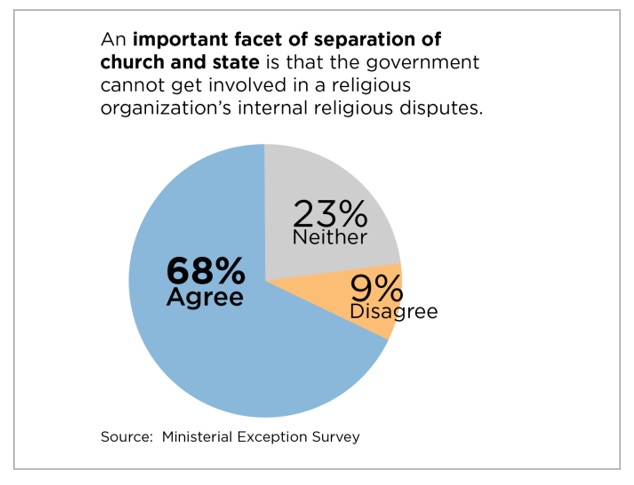 By BECKET – Religious Liberty for All
In a new survey of a nationally representative sample of American adults, respondents showed an intuitive understanding of and support for the First Amendment principles that protect a religious organization's ability to determine its own religious mission and beliefs, including by selecting those who pass its faith to the next generation. The survey especially focused on this ability to pass on the faith to the next generation free from government interference, a protection often referred to as the "ministerial exception." Respondents were tested on their understanding of these constitutional protections, and surveyed on how they think they should be applied.
The survey, fielded in late April, found that more than two-thirds of respondents agreed that keeping the government out of a religious organization's internal religious disputes is an important facet of a healthy separation of church and state. A majority of respondents also said that the religious organization should have the final say when a dispute arises over who can or cannot teach its beliefs to the next generation. In fact, more respondents chose this option than all other options combined.
"When it comes to important decisions about who can pass on a religious organization's faith on to the next generation, Americans agree that the buck stops well before Uncle Sam," said Montse Alvarado, executive director of the Becket Fund for Religious Liberty. "Leaving important decisions about a religion's future in that religion's hands is a commonsense application of the First Amendment."
Although the term "ministerial exception" may not be as familiar as other First Amendment freedoms, on a section of the survey that tested respondents' knowledge of the status of this constitutional protection, Americans typically answered at least three out of four questions correctly. Older generations performed slightly better than younger generations. Education level was not a predictor of accuracy in these questions, nor was political party or the self-reported importance of religion.
This survey and others to follow serve as a companion to Becket's annual Religious Freedom Index. Where the Index provides a macro view of religious freedom sentiment, this survey provides a more detailed view of principles covered in the Index that are central to current religious freedom cases.
The study surveyed a representative sample of n=1,004 American adults from April 20-22. Weighting was used to ensure a representative population with regard to age, gender, race, geographic region, and education. The survey was conducted online and has an estimated margin of error of +/-3.1 percent at 95 percent confidence.