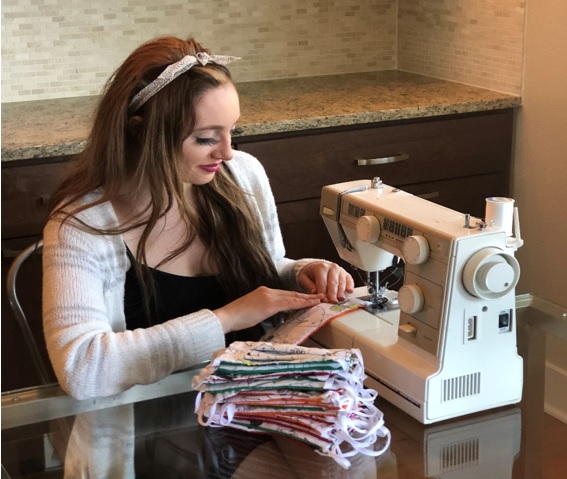 By Naomi Inman
Caroline Echeandia-Francis (age 24, "Francis") of Bethany, Ore., volunteers enthusiastically in the Life Enrichment program for the memory care community at Touchmark West Hills. At least, she did volunteer until early March when social-distancing measures due to the Coronavirus, prevented personal contact.
When Francis asked life enrichment coordinator, Abi Green, how she could continue helping in some way, Green mentioned the need for more masks. Green never expected just how much enthusiasm Francis had for the residents.
"A few weeks later," Green exclaimed, "Caroline delivered a few hundred hand-sewn face masks to us at Touchmark. We never expected anything like that!"
"I used to sew a bit with my grandma," says Francis. "And I'm finishing up a few hundred more to deliver next week. I love volunteering for Abi [at Touchmark] who is so gifted in her work."
Francis, a pre-med graduate of Washington University (2019, St. Louis, MO) will have made about 500 masks all together. She plans to pursue a career in geriatric medicine and explains how her passion for seniors grew as she and her family journeyed with her grandfather through the devastating disease of Alzheimer's. They were very close, and her family even hyphenated their family name to Echeandia-Francis in his honor when he passed.
This deeply personal experience set Francis on a course to pursue medicine and research the disease. Throughout her studies in biology and psychological/brain sciences at Washington University of St. Louis, she conducted lab research in Alzheimer's and dementia, also volunteering with memory care residents for three years. She's currently in a fellowship with the Stanford Ethnogeriatric Program and applying for medical school.
"I see myself being a physician who moves arm-in-arm with patients and their family," says Echeandia-Francis. "Making masks was a way to stay hands-on. My passion is working with people, while also studying epidemiology and biostatistics to help caregivers make better decisions."