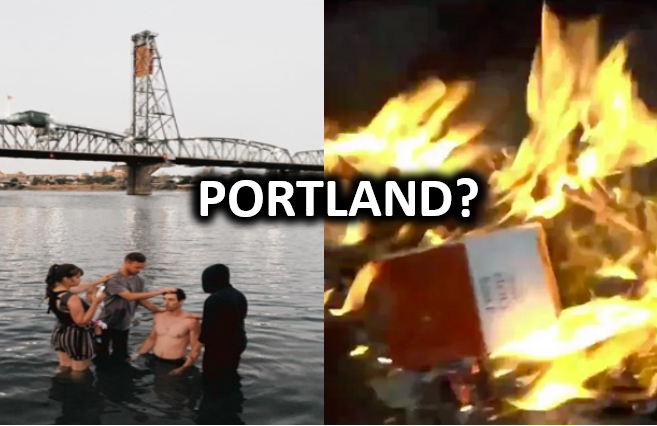 Christian News Northwest,
Subscribe
Is it the one that is now nationally infamous as the site — at press time for this newspaper — for nearly 100 consecutive evenings of protests, often riotous and violent, in the downtown core? And where now God's Word has been publicly burned?
Or is it the one where thousands can gather — also in the downtown area — to offer praise and worship to God and ask for His divine intervention to bring peace to the city, region and nation? Based on widely publicized activities that took place this past month and garnered national attention, the city currently appears to be both.
The larger question is, which will it be in the long run?
For more than three months now, Portland and its fellow Northwest city of Seattle have been the talk of the nation for both cities' ongoing societal unrest that began as a protest of the Minneapolis, Minn., killling of George Floyd by a police officer May 25.
But since then, the activity seems to have shifted from that singular focus to a larger protest at times of the state of American society in general, especially during the stresses of the ongoing coronavirus pandemic. As with Seattle and numerous other cities nationally that have seen unrest and lawlessness, participation by anarchist groups is alleged. At times the violence has involved both right-wing and left-wing groups engaging in brawls.
One of the most controversial scenes from downtown Portland went viral on social media as a video showed at least one Bible being burned along with an American flag by young people in masks. How many Bibles were actually burned is unclear, but The Oregonian noted that the respected fact-checking website Snopes.com determined at least one was burned, citing reporting by KOIN-TV.
Nationally known evangelist Mario Murillo, whose ministry began in the 1970s in the epicenter of violent student revolution — Berkeley, Calif. — wrote in a commentary on IFApray.org that the Bible burning in Portland reflected an even more troubling attitude today:
"In 10 years at Berkeley, during the height of riots and demonstrations, I never saw a Bible burned … This is not about rights or equality. And it is certainly not about George Floyd. Clearly, this is about destroying Western civiliation. And they will proudly stand by this religious hatred."
But Douglas Perry of The Oregonian described the Bible burning as a very isolated incident that doesn't reflect the protests accurately. Perry noted that the video of the Bible burning came from Ruptly, a Russian-government-backed news agency.
"The point of the Information Age disinformation is to pump out online content that has been edited with a specific purpose in mind — in this case, to give the false impression that Portland protesters commonly burn Bibles — and then let the targeted audience's imaginations take flight," Perry wrote. "The Ruptly video doesn't show that a group of protesters that night tried to put out the fire."
With the city's urban core in crisis, business owners have in recent weeks become increasingly alarmed that without intervention by city leaders, downtown Portland as a whole will not recover. Already a number of small businesses have opted not to reopen downtown One major downtown employer, Standard Insurance, has temporarily relocated many employees to the suburbs and suggested they won't return to downtown until the situation improves.
According to The Oregonian, Portland Mayor Ted Wheeler has been largely quiet in response, though the city is in the early stages of developing a plan to address the issues.
It is into this environment that a California worship leader and political activist suddenly stepped last month, seeking to impact Portland to move from "Riots to Revival" — the title of the gathering Sean Feucht held Aug. 8 that drew a large turnout. Crowd estimates at Tom McCall Waterfront Park have ranged anywhere from 2,000 to 7,000.
Affiliated with Bethel Church of Redding, Calif., Feucht is founder of "Let Us Worship," a recent movement to protest restrictions on worship services implemented to stop the spread of the novel coronavirus. "It's time for the Church to rise up with one voice and tell our government leaders and the rulers of big tech that we refuse to be silenced!" Feucht states on his website, seanfeucht.com
He has sparked controversy for holding outdoor revivals this summer in defiance of coronavirus restrictions, including in the California cities of Redding, Fresno, Pasadena, Bakersfield and San Diego. He received similar criticism in local media for his Oregon event. Alhough the state's COVID-19 regulations currently limit faith gatherings to 50 people with physical distancing for indoors and outdoors, most attending his Portland event weren't wearing masks or social distancing, the media noted.
That prompted Christian broadcaster and blogger Gary Randall of Oregon to point out at faithandfreedom.us what he saw as an inconsistency.
"When is the last time you heard the news media question the rioters in Portland, Seattle, or anywhere else for not wearing masks or violating distancing orders?" Randall wrote. "They never question it. In fact, they preface every report by describing the nightly riots as 'mostly peaceful.'''
The Portland event sponsored by Feucht began at 10 a.m. with "training for acts of love and compassion" across the Columbia River in Vancouver, Wash.
The concert began that evening at 6 in Portland, with the crowd enthusiastically joining in prayer and praise music. A few attendees later were baptized in the Wil-lamette River.
The following day, in an interview on the nationwide Fox News show Fox & Friends, Feucht was effusive in his eagerness to share what he said was good news about Portland instead of the recent spate of bad news.
"Thousands came together — white, black, Hispanic, male, female — we all came together and released our song of hope over the city. People gave their life to Jesus. Hundreds of people. We baptized people in the river behind us. There was so much joy that took over the streets of that city last night."
"I will never ever, ever, ever forget what God did last night," Feucht wrote later that day on social media. "We will tell our children's children about it! Nothing is too hard for God! On 8/8, new beginnings for Portland! Thank you Jesus!!!"
A similar worship service was held by Feucht in the Capitol Hill area of Seattle Aug. 9, drawing hundreds.