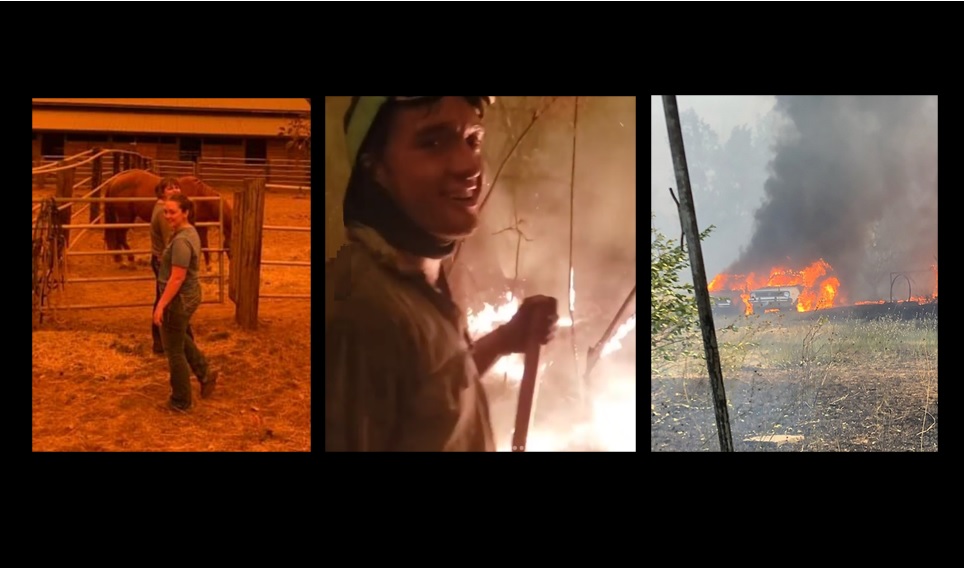 As fires raged across the Western states, devouring millions of acres of timberland and killing nearly 30 people, stories of heroism and close calls emerged.
Running out of gas with flames at your back
A Portland-area family camping at Detroit Lake State Park southeast of Salem with their friends received evacuation orders in the wee morning hours and loaded their vehicle with their boat in tow. As smoke and flames encroached, Allison and Tyler Hargett, along with their 6-year-old daughter, Lilly, followed their friends in the vehicle ahead of them to escape the Beachie Creek fire fueled by high winds and dry conditions.
But at Mill City, Ore., which was also under evacuation orders, they ran out of gas. When Tim and Adamma Dye saw the Hargetts had stopped, they turned around, tossed their friends' belongings into their rig, and drove everyone to safety, Allison Hargett told CNN. The Hargetts left their vehicle and boat in a store parking lot. They're unsure whether it was destroyed by fire but are grateful to have survived, thanks to their friends.
Trapped in Detroit
Laura Harris, a firefighter battling a blaze in rural Oregon, told a Fox 12 Oregon reporter that she and dozens of first responders and residents were trapped in the Santiam Fire near Detroit, Ore. Some firefighters phoned home to say goodbye while Harris comforted herself with the knowledge that her family had already evacuated.
They eventually escaped by following Forest Service roads in a 30-car convoy that navigated through flames, ash, and debris before reaching Government Camp at the base of Mount Hood.
Refusing to leave
Salem's Sandi Elwood worried that her mother, 71-year-old Chris Lyon, wouldn't evacuate from her home in Detroit when ordered to do so, and she was right. Chris refused to go when a Marion County sheriff's deputy knocked on her door but eventually left with a pillow, blanket, her dog and its bed only after most residents had evacuated.
When Elwood returned to her hometown of 210 east of Salem, she videotaped what little remained. Her mother's house was destroyed along with most of the community—her church, the bar where she had worked, the marina. Only the post office and one store remained standing amid the flames and smoke, she told the Oregonian. She and her mother were numbed by the devastation but people called and sent messages thanking her for sharing the video, which she said gave them closure.
Saving horses
Volunteers across the state evacuated dozens of horses threatened by the Santiam wildfire, answering calls posted by frantic evacuees on Facebook and offering their trucks and trailers to help, according to the Salem Statesman Journal.
Megan Spalding of the Canyon Riders Rodeo Drill Team said they transported horses from regions under Level 2 "Be Set" evacuation notices as they weren't allowed in under Level 3 evacuation orders. They evacuated 40 horses from Lyons and moved another 50 horses to Yamhill.
Spalding said they took nine horses into the team's barn east of Salem but prepared to evacuate those animals as flames drew closer.
Leanna Chapin, who lives near Keizer, hauled a stranger's horses to Oregon State Fairgrounds for safety and rushed to do the same for animals near Silverton, but though flames had jumped the road before she could arrive, the 45 horses at the Canyonview Ministries camp were evacuated safely.
Fighting back
As more than 10 percent of Oregon's 4.3 million residents evacuated, Woodrow Myers and his family in Clackamas County tried to keep flames from devouring their house near Molalla on South Sawtell Road by clearing out hot spots and breaking fire lines. He posted a video on Instagram showing their efforts. Most of the county was ordered to evacuate, according to the Oregonian.
Saving their home
To the north in Washington, Larry Frick and his wife, Chandelle, raced toward the fire devouring their hometown of Malden on Labor Day to check on Chandelle's mother, who had stayed behind while they were out of town visiting family. The town of 200 had been ordered to evacuate, but Frick said he couldn't reach his mother-in-law.
In an NBC News interview, Frick likened the scene at Malden to a war zone with nonstop explosions that shook the ground. After ensuring Chandelle's mother was safe, they decided to try to save their home from flames already licking their deck. They used two hoses and their sprinkler system to keep the blaze away from their house until firefighters from a nearby community arrived.
Frick watched as flames devoured his neighbor's home within 20 minutes. Altogether, 80 percent of the structures in Malden were destroyed, yet the town church survived.