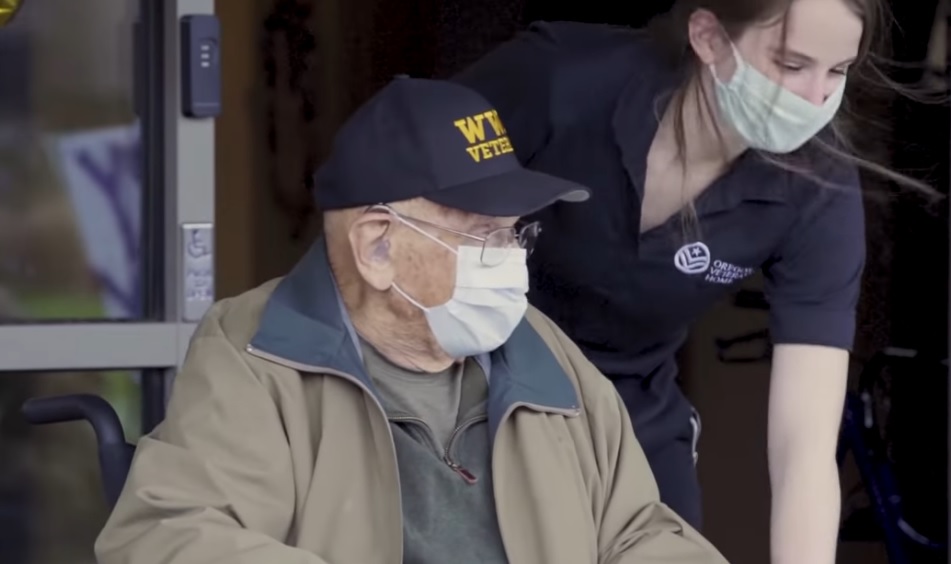 By Oregon Veterans Association,
It's not every day someone turns 104. This year, Bill Lapschies had another reason to celebrate his birthday—with balloons and chocolate cake. One of the oldest people in the world to beat COVID-19, Bill enjoyed a party with family—fully recovered and holding court at a proper social distance.
Bill contracted COVID-19 in early March of this year, along with others in the state-run veterans' facility where he lives. His family didn't think he'd make it through the illness to celebrate his birthday in April 1.
At first doctors thought Lapschies had pneumonia then later he tested positive for the coronavirus. As seen across the country, it's difficult to know what to expect with this disease. Bill experienced times of improvement when he felt well enough to give doctors his winning smile, along with days when his condition worsened. Soon he steadily got better and better.
Family visited Lapschies on a regular basis, separated by a window and talking with him on the phone. Nearly a month after Bill's diagnosis, doctors gave him the good news of victory over the virus. On his 104th birthday on the first of April, Bill removed his mask and stepped outside.
Stories like Bill's offer hope and confirm the effect we have on others around us. Bill's recovery has inspired his family, as well as many other people. His granddaughter, Jamie Yutzie, said Bill's engaging smile and cheerfulness encouraged the family during his illness and recovery. She quoted Lapschies as saying "once you sit down you don't get up." Bill's daughter said "he's never down." His upbeat attitude and perseverance contribute to his longevity—along with the delight and intent to celebrate his birthday and beyond as evidenced in recent photos taken of Bill outdoors at his residence. Although this year's celebration was small, Bill's daughter says next year they'll have a real party!