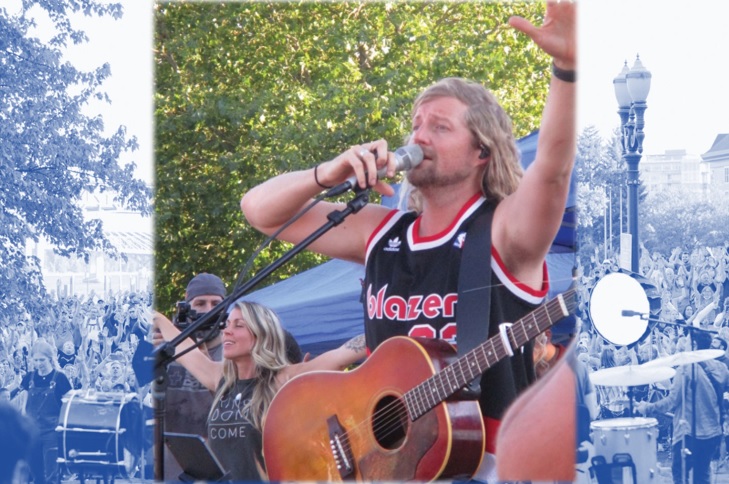 By JOHN FORTMEYER,
Publisher, Christian News NW
Subscribe
With the Northwest's biggest cities beset this summer by deep unrest, evangelist Sean Feucht got national attention when on Aug. 8 he countered with a positive, upbeat Portland event — a praise and prayer rally that drew thousands.
Since then, one of the most unchurched regions in America has been a special focus for Feucht. A worship leader affiliated with Bethel Church in Redding, Calif., he holds "Let Us Worship" rallies nationally in response to restrictions placed on churches during the current COVID-19pandemic. He held a rally Aug. 9 in Seattle's Capitol Hill neighborhood that attracted hundreds. That was followed Sept. 3 with a rally in Salem's Riverfront Park with an estimated 3,000 people, then an event on the Vancouver, Wash., waterfront the following day that also drew thousands, and then a return visit to Seattle on Labor Day, Sept. 7, at which about 900 gathered even though the city government denied Feucht a park venue.
At all the events, while organizers said those attending were welcome to wear face masks and to social distance if they felt inclined, very few masks could be seen and the attenders sang and prayed with fervency and in close proximity. Although the gatherings exceeded current attendance restrictions, authorities made no attempts to halt them as they occurred.
Opening the Salem event, Feucht encouraged participants to display a faith that can overcome the unrest that has besieged the Northwest this year.
"I think America needs to hear some rejoicing from Oregon tonight!," he said, dressed in a Portland Trail Blazers jersey. "You can do some crazy things in parks, especially in Oregon. So why not get a little undignified, a little free?"
Worship need not be constrained by government rules, Feucht added.
"We thought, there's all the restrictions, let's just take the party outside," he said. "The church has left the building!"
Jim Moore, director of the Salem House of Prayer, which helped organize the rally, spoke briefly about Oregon's early-days spiritual heritage, including pioneer missionary Jason Lee's efforts to bring the Gospel to this part of the continent.
Moore said the state still has a divine destiny.
"God is going to send revival to the state of Oregon," he said. "Just because things look a certain way right now doesn't mean it's going to stay that way."
Former state Rep. Jeff Kropf said state leaders need prayer to make good decisions, and he especially said Gov. Kate Brown needed to be a focus of prayer regarding those in the Capitol.
"The pressure of serving in that building is so great," Kropf said.
Following an energetic hour of worship, all interested were invited to walk down to the Willamette River bank to be baptized. Dozens responded, with many more watching from a hillside or a footbridge over the river.
Feucht's second Seattle event was to have been held at the city's popular Gas Works Park, but the city decided to shorten Labor Day hours at 16 of its parks and to shut down Gas Works totally for the entire day. City workers erected a 6-foot fence for several blocks around the park and posted large signs announcing the closure.
Parks officials did not specifically cite Feucht's event as reason for the closure, but issued a statement saying the park was closed "due to anticipated crowding that could impact the public health of residents."
Feucht had a different take on it. He told reporters that the city's action reflected blatant discrimination against Christians.
With the park closed, an alternate site was quickly arranged by a group of local pastors just hours before the event — a construction site on a dead-end street across from the park. The street and adjoining parking lot provided more than sufficient space for what Feucht described as a "worship protest."