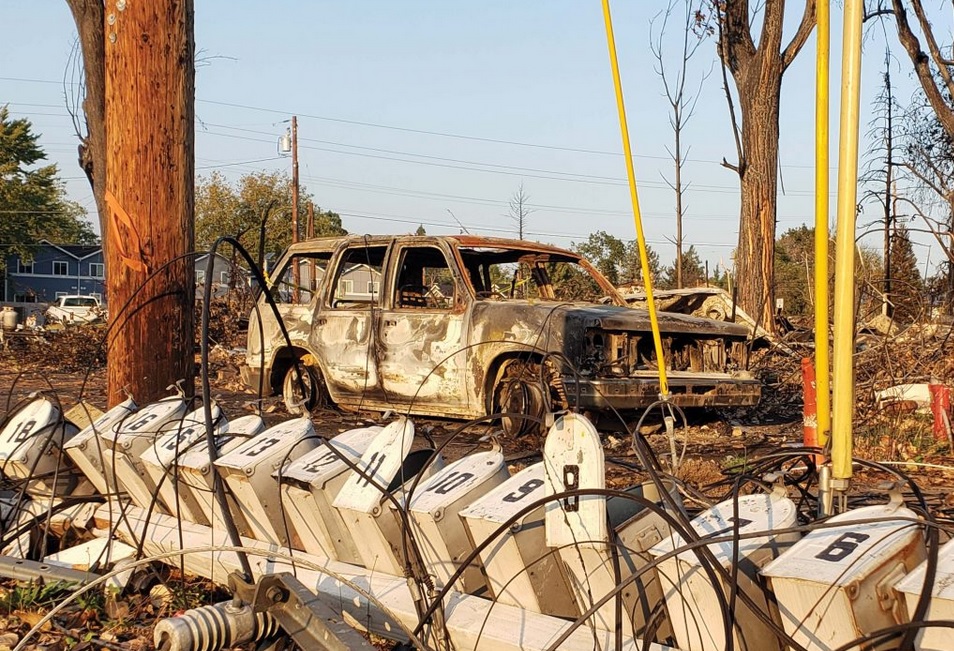 By JOHN FORTMEYER,
Christian News NW,
Subscribe
MEDFORD — In response to two nearby southern Oregon towns left devastated by September's wildfires, Christian ministries have been quick to step in to provide both short-term and long-term help.
In addition to a multitude of individual aid efforts arranged by various denominations and churches for Talent and Phoenix, one ministry that came promptly to the area was North Carolina-based relief agency Samaritan's Purse, as well as an affiliated program, the Billy Graham Rapid Response Team of chaplains. Both outreaches are headed internationally by Franklin Graham.
While the Samaritan's Purse and Graham efforts lasted a matter of weeks, a Vancouver, Wash.-based relief ministry, Forward Edge International, anticipates an extended presence in southern Oregon.
"We are typically a Phase 2 disaster recovery organization," said Sheri Stanley, senior mobilization officer for Forward Edge. "We like to go in, for example, after FEMA, the Red Cross or Samaritan's Purse … It's wonderful the amount of support people get right away. It's very necessary, but we feel led to come in for the longer term."
Stanley spent Oct. 2-6 in the two towns, surveying damage caused by the Almeda Fire, which covered 3,200 acres and destroyed an estimated 2,800 structures and killed five people.
Familiar with that part of the state because her son lives in Medford, Stanley said she was nevertheless unprepared for what she saw when she first arrived.
"When I actually started driving into Talent, I gasped," she recalled. "The weight of it just hit me full-force."
Forward Edge is in the process of forming teams of from eight to 18 volunteers, each of which will spend several days in the area starting this month. What they do hinges on what time of the year they are there and where the communities are "in regard to their healing," said Stanley.
On the first trips, they will help sift ash in burned-out homes and buildings to help recover owners' belongings. They also will work with Living Waters Church in Medford, which had recently purchased a warehouse that it planned to convert into a worship center, but which is instead now being used as a relief distribution and spiritual support center.
"People pray with them," said Stanley. They're just a really neat representation of the Body of Christ … The fire brought a different pathway for them as a church. It was so neat to see them just obey (the Lord)."
Stanley also met with various other churches and parachurch groups to find out what they will tackle in the months of recovery to come. Among them was another Christian relief agency, Medford-based Helping Hands International, which will be assisted by Forward Edge.
The volunteer teams from Forward Edge will be housed at First Baptist Church of Medford. The volunteers will receive initial training on how best to help stricken families in the two towns while showing a servants' hearts and sensitivity to the challenges there.
While some volunteers might expect to help rebuild homes, that may not be possible because of insurance matters, FEMA regulations and other issues, said Stanley. "But in several months when building starts, we can be there for debris cleanup, hauling away scrap," she said. "We would come along in a way that won't take jobs away from folks, but by doing work that is difficult that takes a long time. We also will pray with people, sharing the hope of Jesus."
Those interested in volunteering can contact Stanley at 360-558-5896 or [email protected]
Sifting through ash also was a primary activity for Samaritan's Purse volunteers who came to southern Oregon in September, said Denny Stahl of Sutherlin, a former longtime Grants Pass pastor who now serves as a regional representative for the Graham team.
Along with 21 volunteer chaplains from the Billy Graham Rapid Response program, they ministered to homeowners whose dwellings were burned. As many as five or six small teams rotated through each day there.
In so doing, they sought to show Godly compassion to hurting, often traumatized people. Fifty-eight were brought to faith in Christ, Stahl said.
Stahl said an estimated 10,000 people in that part of the state were displaced by the fire.
"These were neighborhoods familiar to me, and driving down Highway 99, like other catastrophes, there was an atmosphere of sadness," Stahl said. "You see the loss and see the random nature of fire. Complete charred remains, and then a house or business still standing."
Stahl noted that between similarly destructive fires in California, hurricanes hitting the Gulf States, the powerful windstorm that hit the Midwest in August, the COVID-19 pandemic and ongoing overseas needs, Samaritan's Purse and the chaplaincy are stretched thin but remain dedicated: "The idea is sharing hope in the midst of crisis."