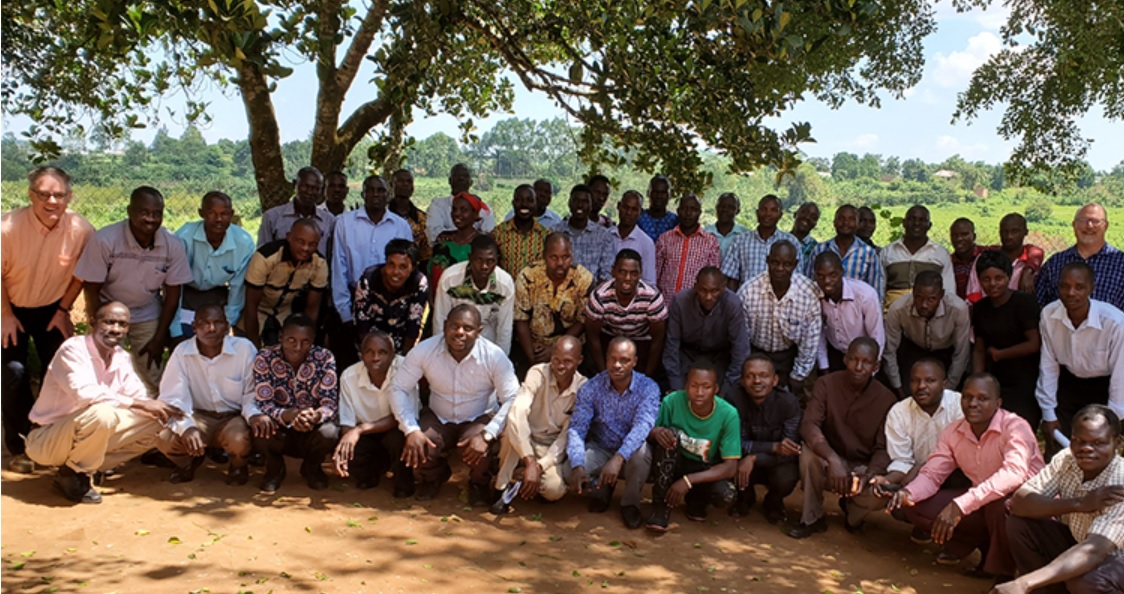 Corban University
Salem, Oregon
Back in 2010, Corban's administration was looking for a way to expand the School of Ministry's graduate program. They planned for something servant-hearted yet straightforward, and within the University's current scope. A pastoral training program in Africa was not even on the table—it hadn't even crossed anyone's mind.
But when one of Corban's representatives ran into Steve Van Horn, the Director of International Training and Equipping Ministries, at a conference, plans began to shift to prayer. Dean of Corban's School of Ministry, Dr. Greg Trull, met with Van Horn to discuss the emerging need in Africa for pastoral training as demand for solid biblical teaching was far outstripping the current supply of capable trainers in the country. After a year of discussion and deliberation, eventually Trull flew out with Van Horn on a scouting trip to Cameroon.
"I saw immediately that this fulfilled our prayers," Trull says. "I saw an incredible need. There were so many pastors looking for training that we could help provide." He returned home to tell his department and the administration the news. "I told them, 'This is what we prayed for,'" he says. "It might not have been what we were looking for, but this was what we prayed for."
Corban chose to place their prayers above their plans, leaning into the direction God had provided them, and began the pastoral training program in Cameroon. The program took the form of a three-year academic certification that combines undergraduate and graduate level classes in biblical studies, theology, and ministry training. "We had pastors there ask us, 'What is this program like?'" Trull recalls. "And we told them, 'It's not exactly like anything else that we do.' But we built it around their needs, from undergraduate level Bible survey classes to graduate level leadership classes."
They took on an initial group of 35 pastors, having to cap the limit on students because their capacity could not meet the incredible demand. Every single one of the 35 completed the program and graduated in 2015. The next cohort grew to 50, graduating 48 in 2018. But shortly after, the program came grinding to a halt as civil war broke out in Cameroon. The conflict centered right where the institute resided.
"We have not been able to return," says Trull who recalls the 6:00 p.m. military curfews, roadside stops, and governmental questioning of the final trip in May of 2018. "Some of the churches where I had preached years before were now in rebel territory," he says. "There were pastors I would've loved to see that we couldn't see because rebels controlled the roads." Many of the pastors who had recently graduated the program were forced to leave the country, and Corban's School of Ministry was left wondering how to continue their ministry in Africa.
Again, God provided a way they couldn't have seen or anticipated. "At the end of our time in Cameroon, we had people in Uganda who had heard about our work asking us if we could come and duplicate our initiative," says Trull. "At the time, we didn't have the people to effectively run programs in two countries at the same time, but when Cameroon closed, the door for Uganda was wide open."
Trull embarked on another scouting trip six months later. It was during one of his stops in Uganda, preaching to a crowd of 700 at a young pastors' conference, that he quickly realized the need. "You could see a wave of application forms being passed forward as we were up on the platform talking," he remembers. "They were all wanting to make sure that we got them." It was clear that God was calling them to shift their pastoral training ministry to Uganda.
The first people Dr. Trull met in Uganda were the four founders of Worship House Church. They shared their story of conversion as young boys growing up in a primarily Muslim community. After seeing a Billy Graham broadcast on television, they gave their lives to Christ, found a Bible, and began reading together. Quickly, they were convinced they were called to start a church. "These four boys were all on their own," says Trull, "no family support, no church. It was just them."
At age 15, they began holding worship services underneath the shade of a large tree out in a field, preaching the gospel to people and having them come and study the Bible with them under the shade of their tree. Now, less than 20 years later, the Worship House is one of the largest churches in Uganda, often drawing crowds of over 5,000 on Sundays.
"I always tell people back home that one of the things I love about our work in Africa is that we get to train heroes," says Trull. "It's not like we're just going there and doing them a favor. It really is a partnership. And we learn so much from them and are so blessed to be able to invest in their ministries."
Mercy House, another of Corban's partner churches in Uganda, provides further evidence of the incontrovertible growth of the gospel in Africa. "Not only do they have a large, growing church, but they've planted 19 other churches, plus they run a medical care system, school, adoption agency, a residential health care facility for developmentally disabled kids, and a micro-bank that includes business training for people who live in the slums to give them an opportunity to get out," says Trull. Corban students also benefit from these opportunities through mission trips and internships with the many partner programs in Uganda.
Trull sees the growing partnership as purely beneficial for both parties. "I think it's helped us to try to be humble and honest," he says. "I think sometimes people have the attitude of going in as Americans and telling people everything they should do and how their worship services should look like ours, and it's just a total disaster, and it's completely arrogant. But on the other side, there are some people that are so embarrassed about coming in and being a white American that they don't offer what they do have. And the fact is, my faculty and I have experience and training and education in the Bible that could really benefit these pastors and so, done in the right way, we can learn from each other. I think the Lord has helped us come along and see strengths on both sides and how we can work together."
Corban's ministry faculty were supposed to return in December, but because of health and safety requirements on both ends, this was not a possibility. Much as the civil war in Cameroon has placed roadblocks in their ministry there, so too has the pandemic. But they haven't stopped teaching their pastors in Uganda and have found new ways to meet their needs.
Corban's faculty started providing remote learning resources and instruction back in July. Since many of the pastors are from remote villages with little or no electricity, let alone internet access, they have had to rethink today's remote strategies, relying heavily on Pastor Freddie, the National Director of the pastoral training program. Trull and Pastor Freddie share a OneDrive account where notes, outlines, homework sheets, and other resources are posted. Each week, the ministry faculty post lecture videos to a private YouTube channel that pastor Freddie has access to.
Even though COVID presents a litany of logistical challenges, the pastors in this cohort have actually started meeting even more frequently rather than less. Instead of their monthly meeting, the pastors meet in small groups every week to continue their education. "Pastor Freddie hands out the homework, shows the video, leads the discussions, and he does it in four different regions so that they can stay within COVID regulations but still meet," says Trull. "They're so eager to learn that sometimes they even wear me out."
Even through their resiliency, the struggles the pastoral training program has confronted due to civil war and the global pandemic weigh heavy on everyone involved. Corban's ministry faculty continue to pray for their ability to return not only to their cohort in Uganda, but to their ministry in Cameroon. Trull's ultimate dream is to see a partnership form between the two African countries, exchanging knowledge and resources. "We have some great leaders in both countries who would really help each other," he says.
For this dream to become a reality requires continual prayer and increased financial support. "We're going to need finances," says Trull. "Right now, we're not spending a lot, but that's going to change. Especially since it's our dream that when Cameroon opens again, we will be able to run both ministries in both countries." In addition to financial support, Trull and his team see a need for increased partnership from trained pastors here in the states. "We would love to ignite them with a vision to invest what they have into pastors in Uganda and Cameroon," he says.
For Trull, he believes the payoff of the program far outweighs the sacrifice, both personally and for Corban as a whole. "For me, it's one of the most missional things we do as a University," he says. "When you think about educating Christians to make a difference in the world for Jesus Christ, we are educating Christians to make a difference in a part of the world where almost nobody else is serving. It's been an incredible adventure."