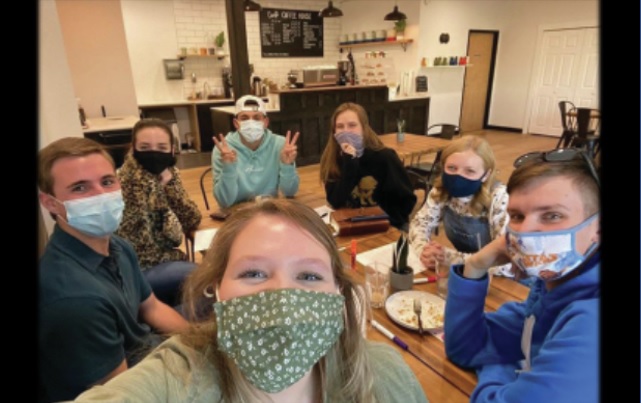 By Miriam Rainwater
NW Baptist Witness,
(photo: Northwest Collegiate Ministries intern Caylea Vessels prepares to lead a Bible study with upperclassmen at Mt. Hood Community College in Gresham, OR.)
Despite ministering in settings brimming with numerous questions, civil unrest and economic strain, Northwest Collegiate Ministries (NCM) leaders report their work at universities across the Northwest has also overflowed with revival and awakening.
In the midst of a global public health pandemic, seven new staff members moved to Oregon this fall and joined the work, strengthening existing staff teams and allowing for the planting of NCM at Oregon State University (OSU).
Becca Johnson and her husband Luke were among those who moved to Corvallis to lead the OSU NCM. Despite quarantining measures on campus, the OSU team has met students via Zoom for gospel appointments.
"I got the opportunity to share the gospel with a student I met through an online outreach," said Becca. "After our first meeting she concluded she was not a Christian but was very interested in knowing more."
Because of COVID restrictions, the student ended up moving home, but Becca continued to meet virtually and talk about the gospel every week. Finally, she prayed to receive Christ. "We are now meeting weekly to talk about what it looks like to grow in her relationship with him," she added.
Ashley Marshall, an associate director at the University of Oregon (UO) shared similar stories of opportunities she has had to lead two students to Christ after connecting with them through a social media platform.
Through gospel appointments, dozens of students have heard the gospel for the first time and several students have chosen to follow Jesus. Campus directors, associates and interns have had the opportunity to share, but the most exciting gospel appointments of all have been those that have been student-initiated.
Hayley, a Portland State University (PSU) freshman, heard about how student leaders and staff set up gospel appointments. So, she set up a gospel appointment with a classmate via Zoom and led her through a "Three Circles" gospel presentation she had learned the week before and talked about the story of Jesus Christ. Students are understanding with higher awareness their classmates' need for Good News in this season. They are engaging in those conversations with passion, courage, and love.
COVID has seemed to draw students in more seriously considering eternity and whether peace exists.
At PSU, six students have connected this fall who were not following Christ at the beginning of the year. When quarantine began, each of them reached back to varying amounts of knowledge they had about God from middle school exposure to the Bible and each separately began searching for the truth by reading the New Testament.
One of the students, Ben, sensed his need for God, chose to follow Christ, and read the New Testament prior to meeting students from the PSU NCM in October. After the first Bible study, he shared, "Before tonight, I didn't know any believers my age. I am grateful that God has answered my prayers and given me peers with whom to talk about the Bible."
Bible studies have drawn more searching students than any other year. A first-time visitor has attended the weekly Bible study hosted by UO NCM every week this term; God is bringing new disciples who will result in spiritual multiplication on campus in future seasons.
Similarly, some faithful freshmen have connected with a Central Washington University (CWU) Bible study. Jeremy Johnson, the NCM campus director at CWU, told about one student who works across campus during the end of their meeting time, but makes the effort weekly to come over for the first portion of the study, eager to discover the Word of God in community.
At Mount Hood Community College (MHCC), NCM launched a small group to specifically engage freshmen students.
"The first week we had two students come that we connected with on Instagram," noted Caylea Vessels, a Texan who is serving through GoNow as the Intern at MHCC. "The week after they brought a friend, and then the next week that friend brought another student. These freshman students are eager to grow in their faith and invite others for the sake of the gospel."
While 2020 has seemed full of difficulty, God is continuing to be faithful, drawing collegiates to himself and sending them out as disciple makers.