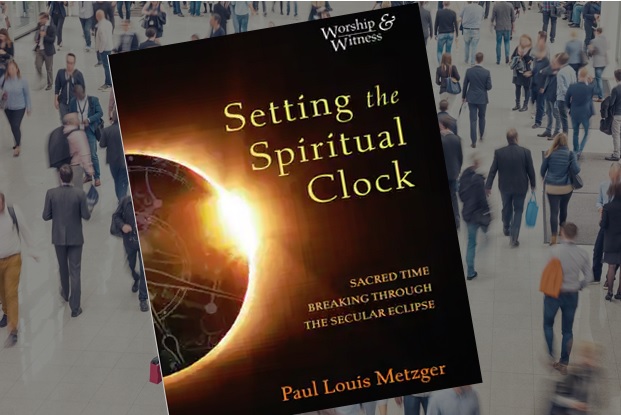 By Multnomah University,
Dr. Paul Louis Metzger, author of multiple academic and general interest titles, encourages Christians to make sure sacred time rather than secular permeates our imaginations. Metzger's latest book – available at 40% off until the end of January 2021 – Setting the Spiritual Clock: Sacred Time Breaking Through the Secular Eclipse serves as a handbook for pastors, worship leaders, and faithful Christians of all traditions who seek to shape their personal and corporate devotional experience in view of the biblical story and church year rather than the secular calendar.
Setting the Spiritual Clock describes how various Christian traditions mark their calendars to reflect the biblical and ecclesial narrative and enhance public worship. Such efforts safeguard against secularization's encroachment in the church's life. The book serves as a guide and traveling companion for the liturgical year, which circles the glorious Son as he breaks through the secular eclipse.
Written expressly for those interested in how sacred time can direct their daily lives, author Paul Louis Metzger states that "You learn a great deal about people – and what they cherish – by looking at their checkbooks and calendars. I wrote the book to help foster a sense of wonder in view of  the biblical and ecclesial story spanning the centuries so that the sacred rather than secular calendar captures Christians' imaginations in our secular age."
In showing her keen appreciation for the multifaceted nature of this volume, Professor Kristen Deede Johnson of Western Theological Seminary states: "This is a gem of a book. A gem because it is rare: part devotion, part reflective essay, a combination of deep biblical and theological wisdom, wise conversation partners, and cultural engagement. And also a gem because its content deserves to be mined and treasured as we seek to follow Jesus in this complex cultural and political moment. Constructively building on other recent efforts to retrieve the liturgical calendar as a part of the re-formation of our Christian imaginations, faithful engagement with this book will surely help its readers orient their lives around the Son in this secular, pluralistic age."
Professor Peter Casarella of Duke Divinity School addresses the volume's evangelical and ecumenical breadth in his endorsement: "Paul Louis Metzger has once again demonstrated an amicable and coherent way that evangelical fervor can be married to Catholic timekeeping. Setting the Spiritual Clock is a handbook to a liturgical life receptive to profoundly ecumenical insights. Christian unity seems much more palpable in the light of its lucid but simple provocations."
Setting the Spiritual Clock is published by Wipf and Stock Publishers who are known for bringing academic subjects into the general audience. "As a typical Pacific Northwesterner and participant in the Portland culture," says Paul Louis Metzger, "The book is a bit of a hybrid, kind of like my Toyota Prius: evangelical and ecumenical, academic and practical, theological and spiritually formational, ecclesial and societal in scope. My hope is that it will appeal to a broad range of readers – be they ministry workers and those seeking a different point of view on their spiritual journey – it is accessible to all."
The publisher is making available a 40% off discount on the book. The offer is good until the end of January. To receive the discount, buyers can purchase from the publisher and provide the code of "ADVENT20" over the phone (541) 344-1528; via email at [email protected]; or online at https://wipfandstock.com/9781725258709/setting-the-spiritual-clock/