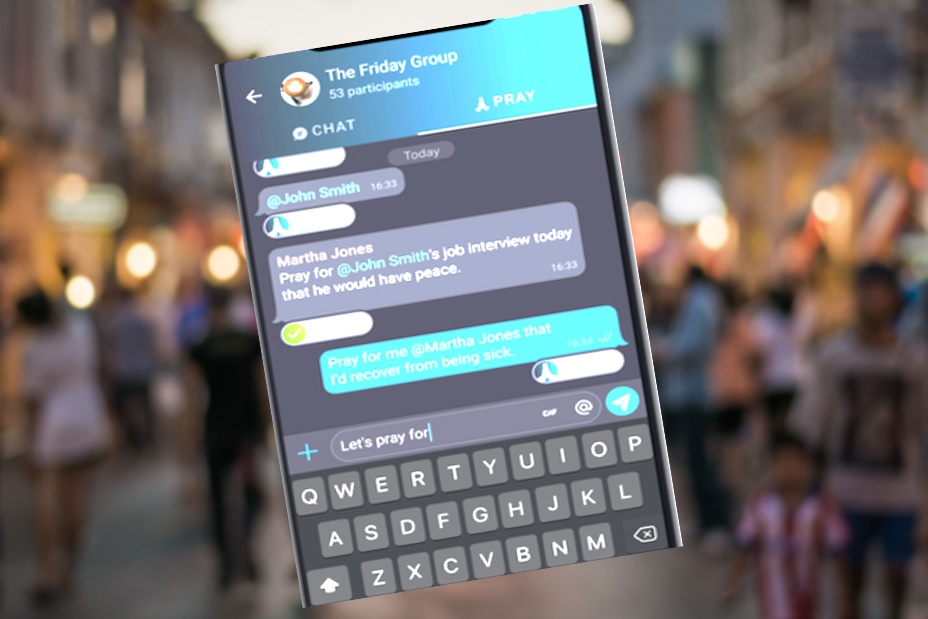 By Soultime Media Limited
New research suggests that even as churches and other religious gatherings have been closed during lockdown, there's been a big increase in people turning to prayer and other forms of spirituality. In a survey of more than 500 people, 77% of respondents said that knowing they were being prayed for by others would help their mental health, 72% said they had prayed more, and 78% said they had felt more spiritual during COVID. When asked if they would like to explore new ways of connecting spiritually online, almost half (48%) said yes.
The free ChatPray app is being launched today in response to those needs. The app has been specifically designed as an intuitive way to help people connect with friends and family in prayer. With ChatPray, users can get notified that someone is praying for them right now.
Where existing chat apps have only a single thread of messages for each friend or group relationship, ChatPray always has two channels – a regular chat channel and a second "pray" channel to express the more important things. Every entry in the "pray" channel gets a "pray" button which, when pressed, increments a prayer counter. More importantly it sends a notification to the author and anyone "@mentioned" in the prayer, to let them know they're being prayed for. Prayers can be marked as "answered" too. When they are, a notification is sent to anyone who has ever prayed that prayer. ChatPray is designed to be as familiar and intuitive as WhatsApp but without requiring the mass of private data WhatsApp now seeks.
ChatPray also includes an easy and effective way to keep a journal of what and who really matters to you. It gives users a pair of personal channels where you can both "chat" with yourself and write and pray your own private prayers.
The ChatPray app is available for iOS and Android and is free to download and use.
Justin Welby, the Archbishop of Canterbury says, "ChatPray is a wonderful new way for Christians to support each other and to pray together. It's new and another step in using technology to serve the church. I know the people behind it and will give it a try."
Father Christopher Jamison Abbot President of the English Benedictines says, "Whether we pray often or rarely, the ChatPray App helps us to know we're not alone. You're in my thoughts and prayers, we say. This App shows we mean it."
Nicky Gumbel – founder of the Alpha Course says "Mark Wagner has been a pioneer in bringing the Christian message to the digital world and I applaud his efforts."
For app images https://cutt.ly/9hQWdin.
Full survey report here https://cutt.ly/xkgruZY.