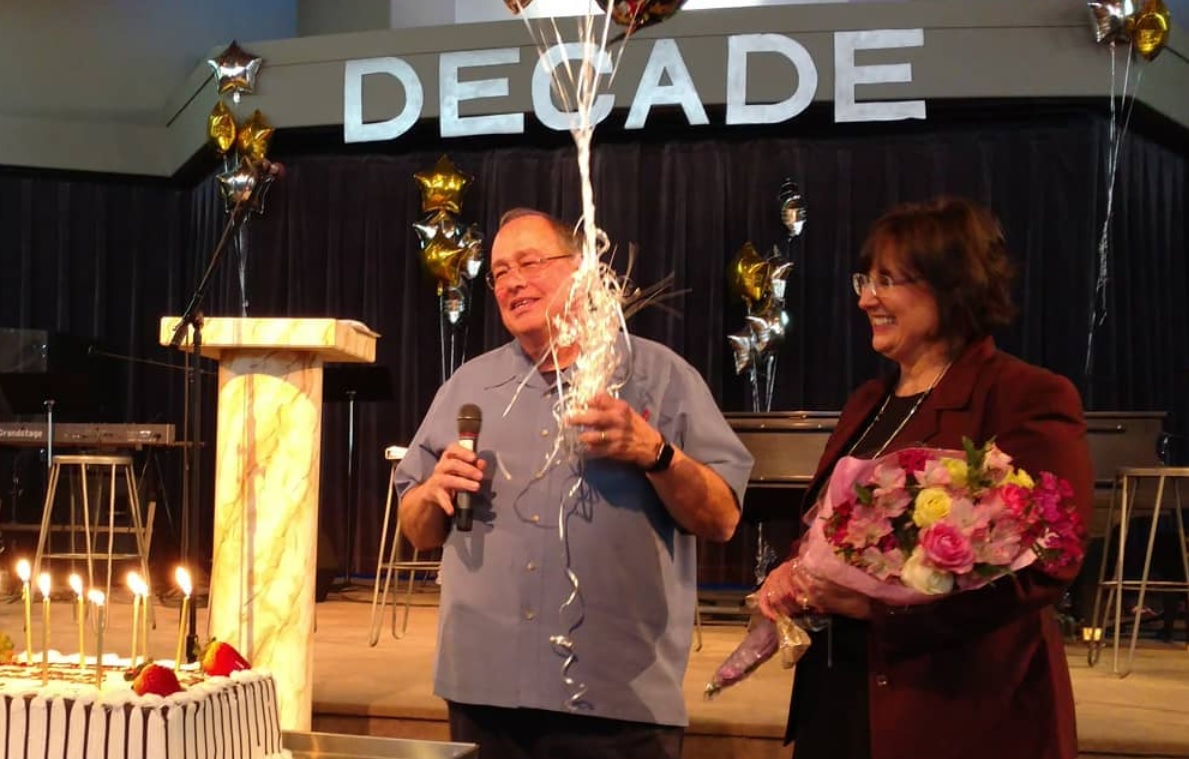 Pastor Strong After Brush With Death
By Karen Willoughby
NW Baptist Witness,
(photo: Barry and Marci Campbell)
Physicians told Pastor Barry Campbell most people who suffered his medical nightmare in December would either be dead or severely cognitively impaired, yet he is alive, well, and back to preaching three messages on Sundays.
Campbell, pastor of Highland Baptist Church in Redmond, told the Northwest Baptist Witness he doesn't remember much from the first seven days of his ordeal, but his wife Marci and daughter Katie fill in the blanks. They were in the hospital with him as much as they were allowed in the midst of a pandemic upsurge.
"We followed the ambulance to the hospital and waited outside for someone to tell us if he was alive or not," Marci Campbell told the congregation Jan. 10, the first Sunday she and her husband were back to Highland Baptist. "It was an hour or maybe two, but just to know he was alive was enough for us at that moment."
Barry Campbell was lifting one end of a bookcase at Katie Campbell's new apartment in Nashville, Tenn., when he crumpled to the ground. Physicians later determined he'd been felled by ventricular fibrillation (V-Fib).
"It really was a miracle of God's grace and timing," the pastor told the congregation his first Sunday back in the pulpit on Jan. 10.
The tale begins with the Campbells driving in two vehicles the week of Dec. 7, 2020, from Redmond, Oregon, to take their daughter to Middle Tennessee State University in Nashville, Tennessee. The alternator went out on the 2017 Toyota Tundra pickup he was driving near Lincoln, Nebraska.
Katie and Marci Campbell drove on in their car, and Barry Campbell waited a day and a half for the repair to be completed on his pickup.
"This is important to my testimony," the pastor said. "For two days I was separated from my family and on the road in places with no help available sometimes, a lot of times there was no [telephone] signal, and certainly no medical support."
But nothing happened.
Once at Katie's new apartment, Pastor Barry began unloading boxes. For two hours he worked alone, before Marci and Katie arrived.
And nothing happened.
But later, as he and Katie were hefting a bookcase, Pastor Barry crumpled to the ground. "With V-Fib, your heart ceases to beat, to pump blood, and sends out confused electrical signals," he explained. "Your heart starts to quiver instead of beating, and I stopped breathing.
"In that moment, I learned later, seconds and certainly minutes are absolutely crucial," Pastor Barry continued. "In five minutes, your chances of survival go way down. After 15, almost no one survives."
Marci called 911 and when she saw he was turning blue, Marci began breaths and Katie began chest compressions. Within five minutes, the ambulance was there. Mother and daughter followed it to the hospital, where they had to stay outside because of the Covid-19 pandemic.
They later learned "A young nurse was in the hospital's parking lot, praying for a sign that what she and the others at the hospital were doing in this fight against Covid was making a difference," Marci Campbell said. "She was assigned to Barry that night. It was his first night.
"They put Barry into an induced coma and wrapped him in Artic Sun [temperature management system.] His heart rate went down to 38 and his temperature dipped to 88," the pastor's wife said. "The nurse played praise music on her iPad and sang, and ebbed and flowed with him all night. It was rocky but by morning he had stabilized. She told us later Barry was the answer to the prayer she had prayed before coming on shift."
Physicians had put Barry into a "deep coma" and ordered the cooling blanket for him, to bring down his temperature to 91 and thus minimize brain damage. The cooling blanket worked too well, and Pastor Barry's body reacted by shivering to bring heat – not a good thing — so he was paralyzed three times to stop the shivering. All this his first night in the hospital.
But within a week the Highland Baptist pastor received a pacemaker and defibrillator, and after another week in rehab was sent home Dec. 22 to Oregon.
"We really think God did an amazing thing," Barry Campbell said. "The progress every day was just amazing and now I'm told I look more healthy than I did before."
Unknown to him, Campbell had a blocked artery in the lower right of his heart. It wasn't the cross-country drive, hard work or heavy lifting that caused his heart to stop. It just happened, and could have happened any time. His heart got out of rhythm, he explained.
Pastor Barry Campbell's recent brush with death isn't the main story, he says. What he learned from it is.
"Be ready," he said. "What we need to be as believers is to be ready, ready to meet God, ready to stay here, and ready to go to heaven."
The Campbells spoke of the power of prayer, and of living the miracle of answered prayer worked out through the medical team and even the hard work of those who worked to keep everything as germ-free as possible.
"Trust God," Pastor Barry said. "I have a new understanding about what God says when we ask for a miracle. It's, 'Trust Me.'"