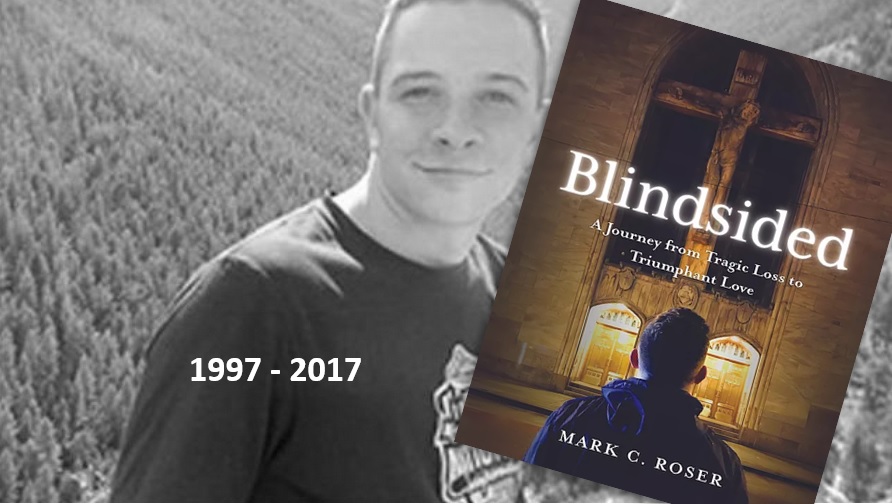 By Side Door Communications
His story made international headlines. In April of 2017, while volunteering at a track and field meet, Ethan Roser, a 19-year-old freshman soccer player and aspiring pastor at Wheaton College, died in a freak accident. Because of the nature of the accident, the media, from the Chicago Tribune to the Washington Post to ESPN, picked up the story, thrusting Ethan's death and his family into the public spotlight.
"The day we received the news, I didn't even want to live," says Mark Roser, Ethan's father, who shares his son's story and his own story of wrestling with God in his new memoir, Blindsided (Paraclete Press, 2021). "Not without Ethan. My heart, all my dreams for my son, for my family, for my world, lie fragmented, all around me, like a thousand shards of a broken windshield."
At the meet, during warm-ups for the hammer throw, an athlete from another school threw the heavy, metal ball attached to a steel wire, and something went awry, sending the hammer outside the boundaries. It hit Ethan in the head, killing him almost instantly.
"God had protected us many times during our many years when my family and I ministered in Africa," says Roser. "I needed to know why He didn't prevent it. Why allow my joyful son to die?"
And so began Roser's journey of searching for answers. In Blindsided, he shares insights into his grief and that of the rest of his family, explores what it means to suffer, shares what he learns about God and love, and gives glimpses into how one even begins to move forward.
"I find my ultimate answer to my 'Why, God?' question in the good news of Christ, in his suffering and dying, and in his rising and glory at the Father's right hand, in his coming again to redeem his people and restore his creation," says Roser. "It is through God's Son that God speaks to me concerning my son's death and why I have suffered grief. All my answers are found at the cross."
Mark Roser is the founder of Uttermost Missions. Alongside his family, he has ministered around the world. He spent 22 years on the mission field in Africa, where he pioneered churches and developed a four-year Bible college. More information is available at: www.mcroser.com.