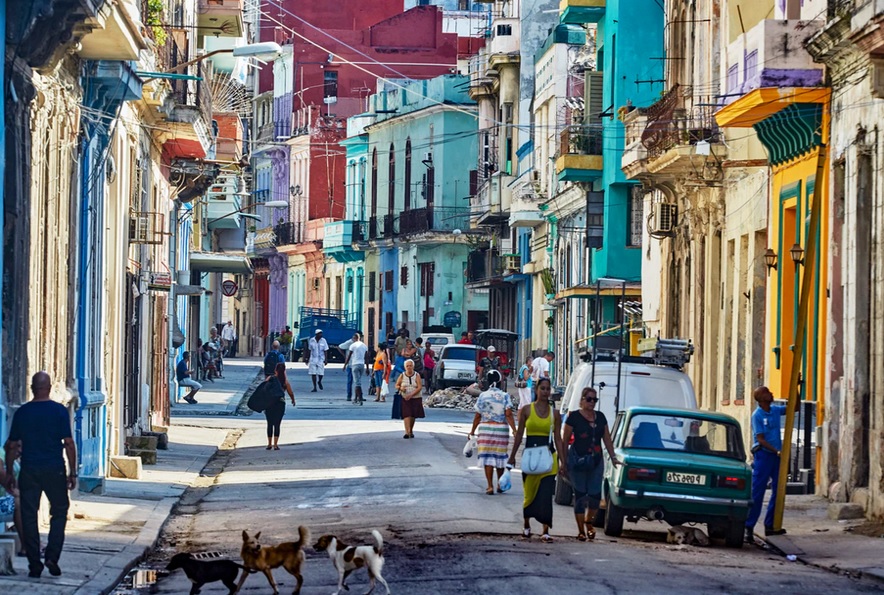 By Randy Alcorn,
Eternal Perspectives Ministry
Ministry headquartered in Sandy, Oregon
COVID and the resulting economic devastation have taken a horrible toll on many poorer countries around the world. The following report from my friend Kurt Nelson with East-West Ministries, about a country in the Caribbean (specific name withheld for security reasons), is just heartbreaking. I've read other reports of food shortages there so bad people are waiting in line for days to get a frozen chicken to feed their families.
The couple of weeks Nanci and I spent in this country a few years ago showed us a vulnerable nation with wonderful people, many of them believers who now in the wake of COVID are suffering terribly, often eating one meal per day if they can get it. Everything is harder there due to its unique history.
Here's what Kurt wrote:
Since last year, one particular Caribbean country where East-West has served for more than 25 years, has been facing a devastating humanitarian crisis. Lockdowns in response to the pandemic have shuttered the tourism industry. One of the country's closest allies has stopped sending aid because its own economy has collapsed. And poor control of the economy has caused astronomical inflation.

These and other circumstances have created a catastrophic perfect storm, leading to severe rationing and shortages of food, medicines, and hygiene products. People wait in line for hours at stores hoping to find what little necessities might be available—all while trying not to get sick with COVID-19, which continues to spike in the country.

Unfortunately, the situation in the country has deteriorated drastically. Families are often eating only one meal a day because of the extreme rations. Bread, a staple in this country, is in short supply, and milk is only given to children up to age 7. Even after 15 months, COVID-19 infection and death rates continue to set new daily records.

Individuals are left feeling utterly hopeless and in deep despair, compounded by the fact that millions of people are living in perpetual spiritual darkness.

But hope is on the move. East-West has partnered with other like-minded organizations and has already sent 25 shipping containers full of food and hygiene products. With each container holding approximately 250,000 servings of food, that's more than 6 million servings sent so far! Eight more containers are ready to be shipped once funding is received.

The food and supplies are sent to local churches, where pastors and lay leaders distribute food throughout the community. They have visited orphans in foster homes, senior citizens, people with disabilities, and families within their congregations. The local believers who distribute the food take time at each home to pray for the families and share the gospel with those who don't know Jesus. People are coming to know Christ through this relief effort! Praise God!

You can be a part of giving hope and changing lives in the Caribbean. Each shipping container costs $23,000, which includes the price of obtaining supplies, transportation costs, port fees, and distribution costs. With eight containers ready to be shipped, there's an immediate need for $184,000 to send the containers to the Caribbean. The hope is to eventually send a total of 50 containers, meaning there's a total need of $575,000 for this relief project.

Would you prayerfully consider giving a gift today to help meet the physical and spiritual needs of those in the Caribbean? Every gift can help alleviate a person's temporary need for food and eternal need for the gospel.

Millions of people in this country are waiting for hope. Thank you for considering how you can help reach the least of these in the Caribbean.
EPM has given to this cause from book royalties, special funds, and our general fund, and we will continue to. If you feel led to also give to this relief effort, you can give directly to East-West at www.eastwest.org/relief. You can also give to EPM's Relief Fund, and 100% of donations will be given to East-West and other worthy organizations working in this country.
I'm reminded of the question of the righteous, who will ask when Jesus credits them for giving to Him, "Lord, when did we see you hungry and feed you, or thirsty and give you something to drink? When did we see you a stranger and invite you in, or needing clothes and clothe you? When did we see you sick or in prison and go to visit you?" (Matthew 25:37-39, NIV). Christ will say to them, "Truly I tell you, whatever you did for one of the least of these brothers and sisters of mine, you did for me" (verse 40, NIV).
I love the picture of Jesus rewarding us someday for things He will have to remind us we did! I also love the thought that when we see people in Heaven, some will thank us for giving to them, including those we never met directly. Certainly God sees, values, and remembers our every act of generosity, even when we don't.
"By this we know what love is: Jesus laid down His life for us, and we ought to lay down our lives for our brothers. If anyone with earthly possessions sees his brother in need, but withholds his compassion from him, how can the love of God abide in him?" (1 John 3:16-17, BSB).
This passage portrays love as inseparable from giving. In fact, it's impossible to truly love without giving. No, we can't give everything to everybody. Yet to withhold our money and possessions from the needy is to withhold from them God's love and compassion. God doesn't need our help—He could do everything without us. But He chooses to entrust us with His mission of love. We are the body of Christ, His hands and feet to the needy.
May Christ's people be His hands and feet to these needy and suffering people in the Caribbean.