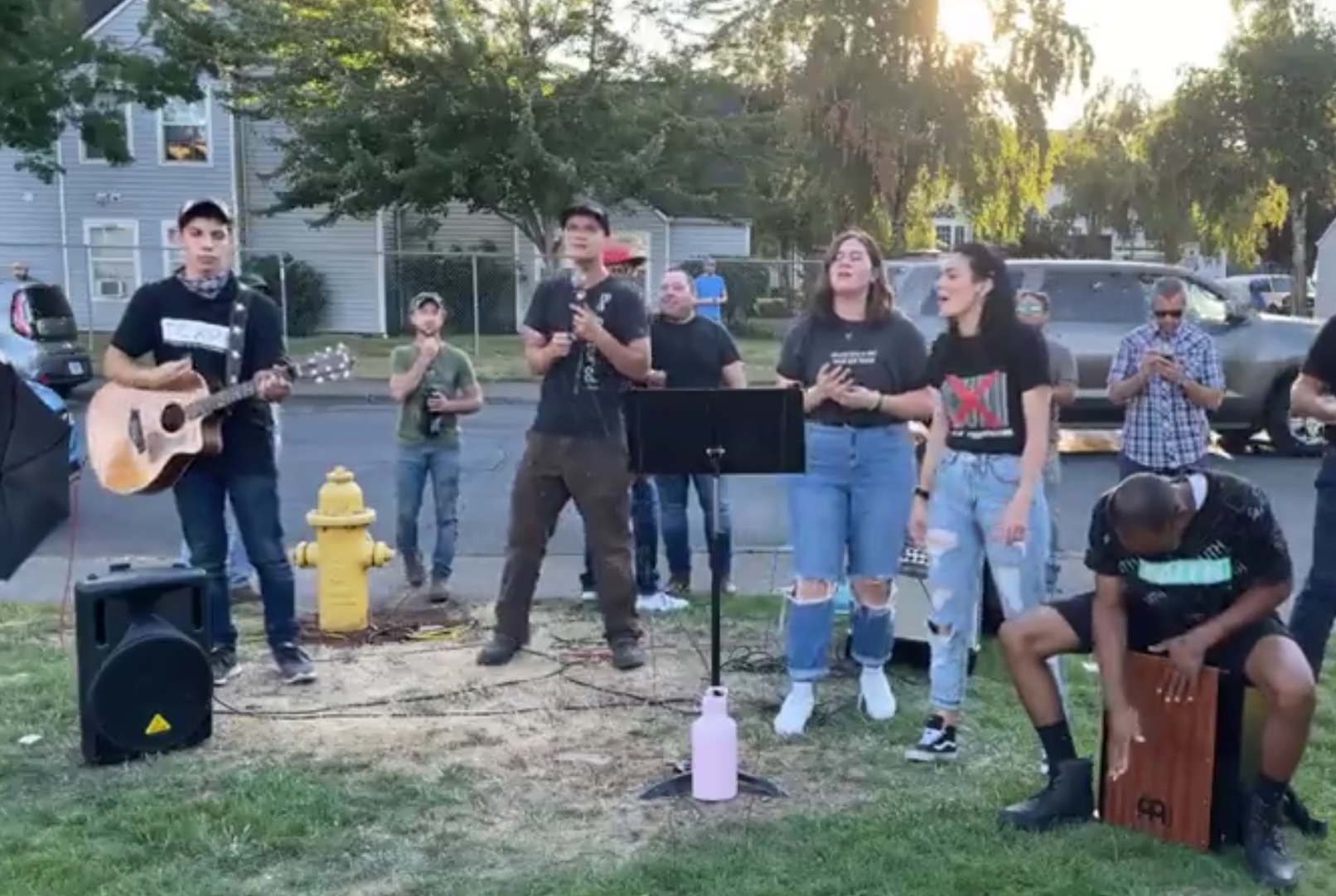 Photo: From Facebook Church at Planned Parenthood
By Christian News NW
Subscribe
Things got more than a little tense last month during one in a series of worship services held outside the Planned Parenthood clinic here, and two people were arrested as a result.
As reported by the Statesman Journal newspaper and at least two websites, the arrests followed a clash between groups that were present at the July 13 service sponsored by The Church at Planned Parenthood and held outside 3825 Wolverine St. N.E..
According to Salem police, between 50 and 70 people were present at first for the service, and among them were 20 people acting as security and carrying guns, bats and body armor. Then about 20 minutes later, about 40 in an opposing group arrived, some carrying bats, paintball guns and armor.
Members of Salem police's Mobile Response Team, already on hand to monitor the gathering, intervened to separate them. At one point, Salem officers formed a line at the entrance to Village East Shopping Center on Wolverine Street to keep the two groups from clashing.
But police later said that individuals from each side had refused to obey officers' orders and continued clashing and sprayed mace and pepper spray at each other and the officers. The officers soon requested additional assistance, and Marion County Sheriff's deputies responded. To stop the continued assaults, Mobile Response Team officers used two crowd control munitions along with a loud distraction device. No chemical agents were deployed by the officers.
On the outreach's website, leaders of The Church at Planned Parenthood say each of its meetings is not a protest of abortion, but is instead "a worship service at the gates of Hell." The gatherings call for repentance for the "abortion holocaust."
Guest speakers at the gathering were Ken Peters, former pastor of Covenant Church in Spokane and Moses Lake, Wash., and now founding pastor of Patriot Church in Knoxville, Tenn., and Greg Locke, pastor of Global Vision Bible Church in Mount Juliet, Tenn.
Peters founded The Church at Planned Parenthood in Spokane in 2018 but now holds services outside Planned Parenthood facilities nationally. Locke has garnered national attention for controversial statements challenging the validity of the COVID-19 pandemic and the resulting vaccines.
Those acting as security for the Salem service wore Proud Boys attire. Proud Boys is a right-wing group known for confrontations with Antifa, especially in Portland.
"We are not affiliated with them, and we did not invite them, but they literally saved our lives," Peters wrote in a Facebook post. "Thank God they were there. They put up a wall of protection between us and the Antifa/leftist mob while we worshipped. They met the mob head on and kept them away from us. I thanked them profusely after we were done."
Peters said the clash that developed after the arrival of the opposing group was "nuts."
"The Salem police described it, 'they arrived carrying bats, paintball guns and armor.' Did you get that … a leftist mob coming after singing Christians praying for the end of abortion with bats, paintball guns and armor! The world has gone mad with evil."
Police arrested Shawn Christopher Alyn Davidson, 30, for disorderly conduct in the second degree, and Rick Dale Clark, 64, for assault in the third degree, riot, disorderly conduct in the second degree, and resisting arrest. Police said there would be additional investigations on those who took part in the incident.
The Church at Planned Parenthood holds the Salem services on the second Tuesday of the month.