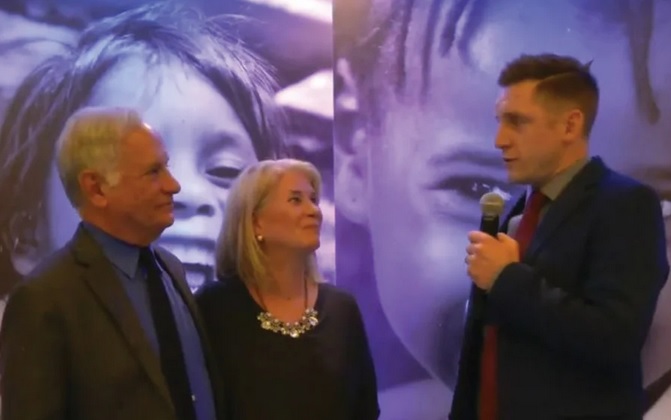 By TIM HIRSCH
Christian News Northwest
Subscribe
VANCOUVER, Wash. — With the goal of continuing its outreach and missionary efforts around the globe well into the future, Forward Edge Chairman of the Board Greg Sievert announced at the nonprofit's Oct. 16 "Worth and Purpose Virtual Banquet" that the group's founder, Joseph Anfuso, will step down from his role as president at the end of the year. Longtime Forward Edge administrator and current director of engagement Tim Ainley will fill his shoes starting on Jan. 1.
A Christian-based nonprofit that specializes in holistic care to several needy countries, Forward Edge sends believers out on numerous short-term field mission trips but also has child-focused community development programs in Mexico, Cuba, Haiti and Uganda. And, in Nicaragua, they have a residential program.
The selection of Ainley was an unanimous decision by the board.
"What makes this news so exciting is Joseph is not saying goodbye to Forward Edge," Sievert said. "He will continue as the president through the end of this year. And, even beyond that, he will play a role, a very important role, in supporting this ministry (by) offering his insight and pouring into the meaningful relationships that he's built through the years."
Taking the stage shortly after the announcement, Ainely pledged he would do his best to continue the work Anfuso has led for the past 38 years.
"I'm deeply honored and humbled by this opportunity to serve Forward Edge in this role," he told the small live audience and, much larger, virtual one. "And, as I prepare to step into it, I want to make three commitments publicly in front of everyone. First, this organization has been led by God, by His Holy Spirit, for the past 38 years. That has been Joseph's top priority and will be mine as well. It's God who leads Forward Edge International. I will do my best to surrender to him and to follow him completely.
"Second, I'm committed to bringing the opportunity of holistic transformation to more and more children who need it all around the world. Jesus said 'Let the children come to me.' So, let's keep bringing them to him.
"Third, I'm committed to caring well for all of you, all of you stakeholders who are part of this mission together (with) the children, obviously, and the families, the staff in the field, and the staff in the office, to our church partners and our mission trippers, and to everyone who is investing in this organization through prayer and finances. Without you, Forward Edge would not be in existence. We are all Forward Edge together."
Ainley then welcomed Joseph, and his wife Karen, to the stage.
"Words cannot express how much you mean to all of us," he said. "Thank you for following God's call 38 years ago, thank you for caring so deeply, for taking risks, for giving of yourselves, sacrificing so much, thank you for enduring through the hard times and sharing the blessing in the good times. Thank you for running this race so well."
In addressing the live and virtual audience, Anfuso said he credited the hard work of the board in selecting such a worthy and able successor.
"It is no small thing for a founder-led organization like Forward Edge to continue on after the founder steps aside," he said. "That doesn't automatically happen. And it's only possible for Forward Edge because of the strength, commitment and giftedness of our Board of Directors, our (headquarters) staff and field staff.
"It's also happening because God has raised up the right person to step into my role," Anfuso added. "Tim embodies many of the core value of Forward Edge. He has a servant's heart, a commitment to being led by the Holy Spirit as he said, a love for people, and a belief in the infinite value of every human being."
Both Ainley and Anfuso later spoke to CNNW and offered additional insight into the transition.
"What prompted my decision was just the realization it was time to make room for another leader to take Forward Edge into the future in ways that perhaps I wouldn't be able to do," Anfuso told CNNW. "We have been very intentional in preparing for this moment."
He also looked back on all that he has accomplished.
"What really motivates us is a desire to see more and more followers of Jesus putting faith into action, and, as result, hearing more clearly God's call on their lives," Anfuso said. "Every Christian has been uniquely designed and equipped by God to contribute to his purposes in the world. So we saw these trips as a catalyst (not just to aid children, but) as a catalyst for people to believe that more, to advance his kingdom. I'm grateful for being able to provide opportunities like that for thousands of Jesus followers across the United States."
He highlighted Forward Edge's holistic approach to providing services — and the word of God — to those children in need. That means they're providing all they need — nutritious meals, education, healthcare, access to safe drinking water, tutoring, and, yes, spiritual discipleship, too. And those serving these mission fields are coming away full, too.
"We're really supporting people who have a vision and calling that aligns with our mission, which is providing opportunity for people to discover their true worth and discovering God's purpose in their lives," Anfuso said.
He also credited the one that deserves the glory for Forward Edge's continued success in delivering the message to unreached people groups.
"It's always about us being led by the Holy Spirit and recognizing that God is always going to be opening doors of opportunity for us, but we have to take the initiative and go through those doors," Anfuso added. "When God invites a person to put faith in action, and they respond in obedience — even though they don't know what lies ahead — that's when you discover what God is, who you are, and what God can do through you."
Looking forward, he said he is enthused with Ainley taking the helm and steering the ship. Notably, he said he's thankful that Forward Edge found someone from within the organization that was a good fit.
"He loves people; he loves children; he's hardworking and very reliable and very faithful," Anfuso said about his successor. "Prayer is priority for Tim and that puts him in good position to be led by the Holy Spirit and continue to rely on God for the work that he is being called to do."
And he has high hopes for Forward Edge under Ainley's leadership.
"Personally, I believe in the years to come we're going to launch programs in many places we haven't even discovered yet," he said. "I believe thousands more of individuals and churches will travel the globe with us, sponsor children with us and (will transform) the lives of thousands of children in some of the world's poorest countries."
Ainley, in his conversation with CNNW, said he is honored and humbled by the promotion.
"My heart, my vision for Forward Edge is to continue to equip and empower children to overcome property and meet Jesus and pursue Jesus and his purpose for their lives," he said.
Fundraiser tops goal
The fundraising portion of the "Worth and Purpose Virtual Banquet" was also a success. Forward Edge had a goal of $400,000, but, according to Ainley, came away with $413,000 pledges.
"We depend on the support of our financial partners to do everything we're doing," Anfuso said. "The more we're able to raise, the more lives we can impact."
For more information about Forward Edge and its mission opportunities, visit forwardedge.org.