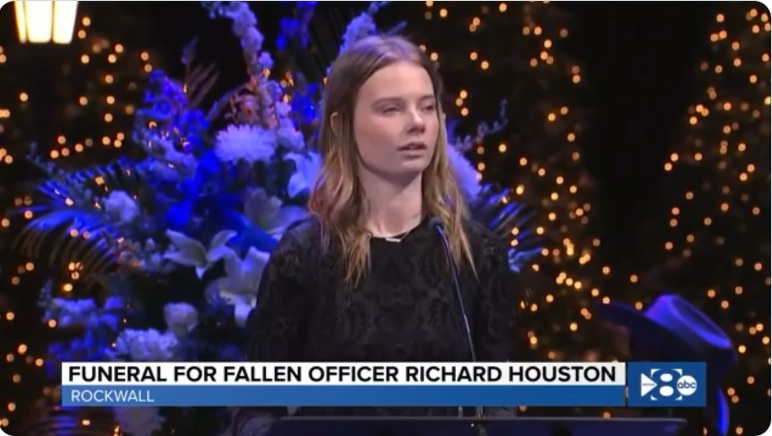 By Randy Alcorn
Eternal Perspectives Ministry
Ministry based in Sandy, Oregon
I watched a video of a young woman, Shelby Houston, speaking at her father's memorial service. Her dad, Officer Richard Houston, was shot and killed on December 3 in Mesquite, Texas while responding to a domestic disturbance.
This clip from her message is so wonderful, so beautiful, it took my breath away. This is the grace of God. What a legacy her father left and what a reminder of the incredible impact that godly cops can and do make in our culture. Watch and listen—this dear young woman is a living, breathing embodiment of the grace and forgiveness of Jesus:
Shelbys father, Officer Richard Houston, was murdered last week in Texas. I don't know if I've ever witnessed such a powerful display of God's mercy & grace.
The next time our lost neighbor, co-worker, or family member aggravates us…remember the words of this grieving daughter. pic.twitter.com/TX2RJbA86v

— Thomas Delp (@ThomasDelp) December 10, 2021
Shelby and Richard Houston"There was still a lot of life I was looking forward to spending with him. Eighteen years with you daddy was just not enough time," Shelby said. "You were faithful, steadfast, kind, loving, selfless, and hard-working. On December 3 you were silenced but you will forever live on in my heart today and all the days to come."
Shelby finished by saying, "You're my hero, Daddy. And I'm so proud to call you my father. I love you most. And I'll see you someday soon." (See this article and video from a local Texas news station.)
How could a grieving daughter forgive her father's killer? Only by understanding the grace of God that has been extended to all of us. In 1993, I wrote an article about Wesley Allen Dodd, a child molester and murderer, and referenced my daughters who, with the same heart as this dear girl, wanted to pray for Dodd before he was hung. And this was my response more recently to someone who rejects the idea of forgiving a killer.
The point is this: loving and forgiving people who've done terrible things is exactly what God does for each of us. No, most of us haven't murdered someone, but we've had hate in our hearts, and "Anyone who hates a brother or sister is a murderer, and you know that no murderer has eternal life residing in him" (1 John 3:15). But the good news is that eternal life is offered by Jesus to all haters and all murderers!
One of our privileges here at EPM is sending my books to prisoners across the U.S., those incarcerated for a wide variety of crimes. While books bought by people who aren't in prison often go unread, and may not be passed on to others that much, it is radically different for prisoners. They not only read books they have requested (and the great majority of my books are sent when prisoners themselves have requested them), but they also eagerly pass them on. It's common to hear reports of books that have literally fallen apart, pages coming out, because they have been read and reread so many times, sometimes by dozens of prisoners.
There is untold potential to minister to these men and women who are worthless in the eyes of the world, but who are so valuable to God that He shed His divine blood for them. If you'd like to partner with us in reaching them for Christ, we'd be honored if you'd prayerfully consider supporting Eternal Perspective Ministries with a year-end gift. Financial gifts to our General Fund support our operating expenses and staff, and allow us to continue giving away the royalties from my books. (You can also give to our Books for Prisoners Fund, if you'd like to directly support that part of our ministry.)