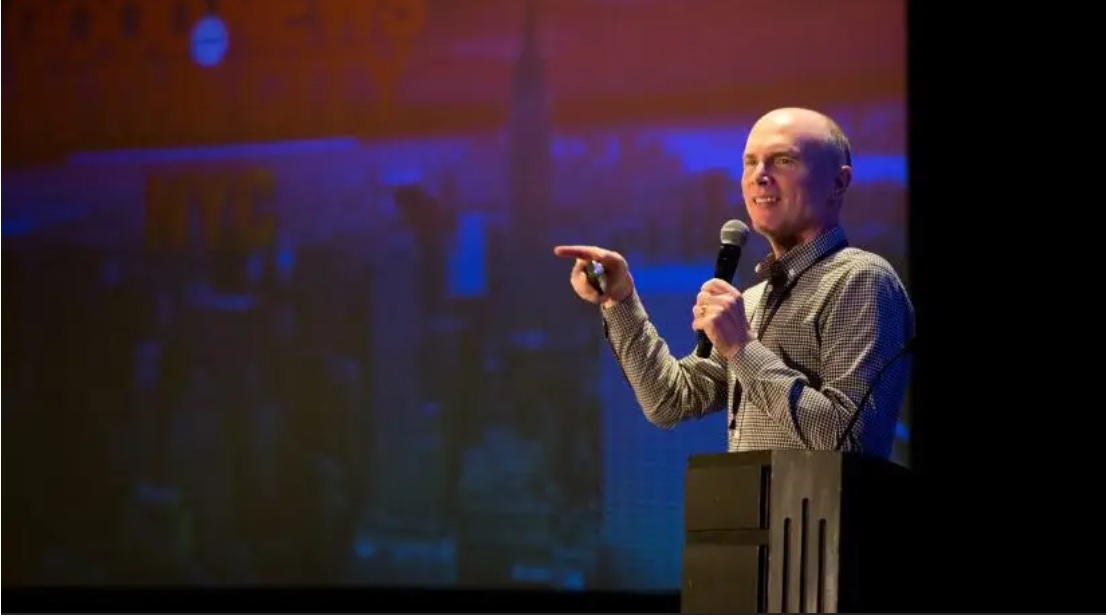 By Christian News NW,
Subscribe
Photo: Guest speaker at Mission Connexion, Kevin Palau
BEAVERTON — It its continual effort to connect local churches and individuals with mission opportunities at home and abroad, Mission ConneXion will hold its 20th annual event in which it seeks to put those desiring to serve together with four speakers, more than 80 workshops and 80-plus organizations that are hosting mission-focused informational booths.
Held at the Village Church in Beaverton, Jan. 21-22, Mission ConneXion is a citywide event that offers learning and networking opportunities to leaders in the church, to mission groups and organizations, and Christians at large.
It consists of three elements — Plenary/General Sessions, workshops and exhibits. Food, too, will be available in the church's courtyard under the protection of a large tent.
This year's plenary speakers are: author Jeannie Marie, NAAMC executive director Adrian Reeves, Luis Palau Association President/CEO Kevin Palau, and OM USA President/CEO Andrew Scott.
Marie is the author of "Across the Street and Around the World" and creator of "The Neighbors & Nations Course," and says her goal is to inspire and train ordinary people to reach the three billion people with the least access to Jesus.
She is also a strategist for Frontiers, an international organization that sends people to serve in 50 Muslim countries around the world as well as an instructor for Perspectives and Justice College.
A practitioner and mobilizer, Marie has befriended international students, welcomed refugees, worked with community development nonprofits, and moved to India with her family to an unreached, unengaged people group.
Reeves is a missions mobilizer and serves as the director for the National African American Missions Conference (NAAMC). In this capacity he oversees missions programming for children, teens, and adults empowering them through resourcing, equipping, and networking for cross-cultural missions. He is also the executive pastor for Christ Kingdom Church in Prince George's County MD. He accepted the Lord at the age of 12 and dedicated his life to the advancement of God's Kingdom. He says he strives to build capacity in God's people through insightful instruction and edifying encouragement.
Palau is the president and CEO of the Luis Palau Association. He joined LPA in 1985 and began directing the day-to-day operation of the ministry in the late 1990s. Under his leadership, LPA has united tens of thousands of churches in hundreds of cities to love and serve their communities and clearly share the Good News of Jesus. During Palau's time at LPA, he has also helped develop a global network of hundreds of partner evangelists.
Palau also helps lead TogetherPDX, a sustainable, united movement of churches in Portland. His book, "Unlikely: Setting Aside Our Differences to Live Out the Gospel" describes the ongoing impact of the movement.
He lives in Beaverton with his wife, Michelle, and serves on the boards of Alpha USA, Christians Against Poverty, and Transforming the Bay with Christ.
With a passion for innovation, Scott is working to reframe Christian missions for a generation. He serves as President/CEO of Operation Mobilization USA, a member of OM's Global Leadership Team, and frequent speaker on challenging the status quo of missions and calling. Author of the highly acclaimed book "Scatter: Go Therefore and Take Your Job With You," he and his wife Sharon live near Atlanta and have two children, Ana and Daniel.
Also appearing as a special guest will be Jamie Kim, founder and director of Reah International, a Christian organization whose vision is the complete unity of the body of Christ in North Korea.
Pre-pandemic, the event consistently hosted 3,000 to 5,000 attendees over two days. Though that number is unlikely, director Bill MacLeod told CNNW that he expects approximately 1,500.
"It's the largest Christian mobilizing event on the West Coast," he said.
Once inside the church, attendees will be offered numerous opportunities in their search for serving the Lord.
In addition to the plenary speakers, Mission ConneXion attendees will find more than 80 workshops and better than 80 mission-sponsored booths to be a valuable resource. Workshops will include a number of tracks including apologetics, business as mission, community health evangelism, disciple-making movements, discipling new believers, effective evangelism, emotional crisis care, international students, missional prayer, missionary care, mission basics, persecution of the church, preparing to serve in mission, racial unity in missions, reaching Muslims and Hindus, refugee response, short-term mission and more.
MacLeod said that amongst the additional important facets of Mission ConneXion is its all-encompassing reach as it represents or has something for everyone from the retired missionary to the new believer, from short-term mission opportunities abroad to local outreaches of churches in the Pacific Northwest.
"We don't want to be just another mission event," he added. "We're really trying to mobilize the church. Either through workshops or plenary speakers, (attendees) find ways they can connect and find their place in missions."
He also pointed to the important and varying avenues the event offers to churches, pastors and the general public.
"Mission ConneXion provides a great opportunity for a church to get out of its comfort zone and begin to understand what groups still need to be reached (with the gospel) and how a church can engage with the population (both) locally and globally," MacLeod added. "It really gives some practical tools and (showcases) practical ministries."
Each ministry presented at the two-day event has been vetted by Mission ConneXion and examined to ensure they have a solid track record of working with local churches.
"(The ministries) are (at Mission ConneXion) to engage the person who is looking to serve in some capacity," MacLeod said. "The biggest takeaway is the show of unity. There are over 400-500 churches represented. They're all unified for the same purpose and that's to take the gospel to the ends of the earth."
Event host site, the Village Church, is located at 330 SW Murray Blvd., Beaverton. To register for the 2022 Mission ConneXion event free of charge, visit MissionConnexion.com/mcnw2022/. As this year's theme reminds you, "It's time" to discover your place in God's global plan.