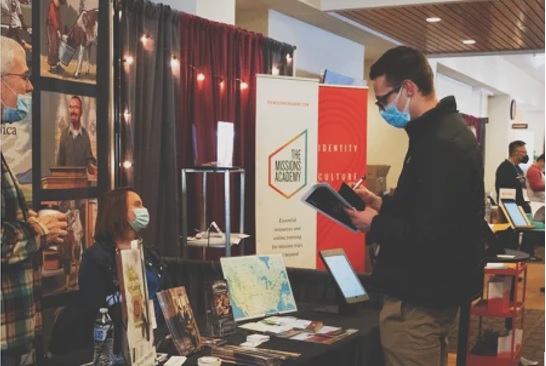 Christian News NW
Photo: Tim Hirsch
Subscribe
BEAVERTON — It was a weekend of energetic speakers, multi-lingual worship and instructive workshops when the 20th annual Mission ConneXion conference hosted an estimated 1,300 people interested in pursuing missions. More than  2,500 also participated online.
All told, there were approximately 80-plus mission-hosted booths that people visited as well as approximately 80 mission-focused workshops at the conference, which was held Jan. 21-22.
Mission ConneXion director Bill MacLeod told CNNW that though the event attracted a smaller crowd than it typically does, he saw it as a positive step forward after COVID kept a live event from happening last year
"(The turnout) was a respectable showing given (concerns over COVID)," he said. "Just to get people moving again made it definitely worth it. There was a spirit of encouragement and excitement."
He also had high praise for the four plenary sessions, which included talks by author Jeannie Marie, NAAMC executive director Adrian Reeves, Luis Palau Association President/CEO Kevin Palau, and OM USA President/CEO Andrew Scott.
In Friday night's plenary session Marie focused on the idea that, when it comes to reaching the lost, it's a good thing to "start small, start soon and start somewhere we already are."
She said one good way to start local is to make a friend we can share the gospel with in our own neighborhood.
Marie also suggested a good first step in our walk is to embrace our identity in Christ.
"You are dressed in new clothes," she said. "You are dressed in the righteousness of Christ. You are adopted into God's family. You are an heir."
She added that once we understand this, it makes it easier to abide in Christ — and to surrender to him.
In his Saturday session, Scott focused on the idea that those worried they are not worthy to go out and serve should be encouraged by the fact that we don't get our worth from ourselves but from the Lord.
"It's not because of anything you've done or anything that's been done to you, but because of Jesus that you're worthy," he said. "That is who we are. And when we can embrace that, when we can understand that and shut out the other voices, then we can start to understand the why we are. God made us worthy."
He also offered the perspective we aren't just called to serve God, but made for the purpose of doing so.
"Are you called? Well, actually we're not called into the purpose of God, listen, you were made for the purpose of God," Scott said. "Living out my life for the purpose of God is not something I was called to; it's something I'm made for."
Later, Reeves painted a picture to show what "kingdom culture" should look like.
He noted that, as was raised at Mission ConneXion's earlier Leadership ConneXion event, one of the church's greatest hindrances is its reputation to the lost. He also said believers need to remember they have both personal responsibility and accountability to the rest of the church family.
"God has given delegated authority to his sons and daughters — not the government, not the school system, not the police department, it's the church that's supposed to make the difference in the community," he said.
He also focused on the many roles in the body of Christ, roles that not only include pastors and evangelists, but also "apostolic anointing."
"When the foundation of the apostolic are put into place, then the church has governing hands… There are clear scripture guidelines of how the body conducts itself," he said. "Apostles govern. Prophets guide. Evangelists gather. Pastors guard and teachers…and it takes all five of them working together."
Some of his other points included the need for us to know our own individual roles, to practice true discipleship, and for believers to be courageous and faithful — even in conflict.
"Today, we have a lot of Christians that want to be famous but not faithful," he added. "The authenticity that we lack the world sees, and they don't want more of what they already are. They don't want a faith that we cannot defend and share. They need people who are courageous and bold and faithful — even in conflict. (Someone to say) you're wrong, but I love you, and I am going to walk with you. That's the culture of the kingdom. When we are unafraid to stand in the face of that which is unrighteous, of that which is despicable and disgusting in the eyes of God and say I love you enough to call you out and I'm still going to be with you (but) this is wrong, this is sin."
Palau recapped the accomplishments of the Palau Association's festival, as well as the community-serving efforts of what is now known as TogetherPDX.
He noted that though all these efforts — which included not only restoring Roosevelt High School but also establishing a community service oriented presence at more than 300 area schools — have impressed the unchurched, there still remains the goal to not just show God's love but to get those around us to accept that love, and, ultimately the promise of salvation.
"The world will celebrate the good things we do and we need to keep doing them…the world is not going to celebrate as much when we declare the Good News of Jesus Christ in a way that challenges people," he said.
Palau also pointed to several lessons learned.
"This is not a Christian culture anymore — certainly here in the Portland area," he explained. "We're in exile, but that can be a good thing if it forces us to be humble and more open and listening well and being the shalom of the city."
Another point Palau focused on is the need "to serve out of and not for our identity." He said the point is to avoid lies such as "I am what I do, what I accomplish; I am what other people think of me: I am what I have."
He said that instead, we should embrace that we are beloved children of God.
"I am a beloved child of God and so are you," he added. "Out of our confidence as beloved children, we are ambassadors for Christ."
Palau said as ambassadors, we can concentrate on a number of things including representing Jesus to the world, speaking the name of Jesus, and staying in constant communication with Jesus.
"The community that has done more good for the world, by far of any movement, is the church of Jesus Christ," he said. "Despite our weakness and our failure and our corruption in so many ways, we're still indwelt with the spirit of Jesus Christ. (We are) beloved children, and we are ambassadors that speak with the authority of Jesus."
For those that didn't make the conference, Mission ConneXion is promising to make some of the content available online in the near future. For more information, visit missionconnexion.com.