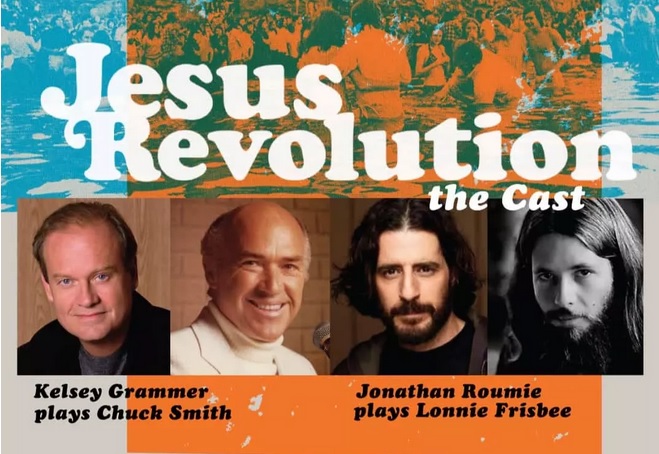 By Troops and Allies
Kingdom Story Company and Lionsgate announced that Kelsey Grammer, Anna Grace Barlow, Jonathan Roumie, and more have joined the cast of Jesus Revolution, a film inspired by the true story of a national spiritual awakening in the early 1970s and its origins within a community of teenage hippies in Southern California.
Grammer ("Frasier") will star alongside Joel Courtney ("Super 8"), previously announced, as well as newly joining cast members Anna Grace Barlow ("The Big Leap"), Jonathan Roumie ("The Chosen"), Kimberly Williams-Paisley ("According to Jim"), Ally Ioannides ("Parenthood"), Julia Campbell (Romy and Michelle's High School Reunion), Nic Bishop ("Truth Be Told"), and Jolie Jenkins ("Alexa & Katie").
In the 1970s, young Greg Laurie (Joel Courtney) sets out to redefine truth through all means of liberation, and instead, meets Lonnie Frisbee (Jonathan Roumie), a charismatic hippie street preacher. Laurie and Frisbee, along with Pastor Chuck Smith (Kelsey Grammer), open the doors of Smith's languishing church to an unexpected revival by way of rock and roll, newfound love, and a twist of faith leading to a Jesus Revolution that changed the world.
Laurie went on to start Harvest Christian Fellowship, one of the largest churches in America, and the Harvest Crusade events, which have been attended by over six million people.
Modern-day cause-related crusades and rallies for change are everywhere. Jesus Revolution is the story of one such movement that not only set a model for change-makers thereafter, but that sparked a revival with ripple effects that still matter today.
Grammer will play Chuck Smith, the real-life pastor of Calvary Chapel in Costa Mesa, who served as a mentor to Greg Laurie. Chuck famously opened his church to a generation of hippies and seekers, helping to launch the last great spiritual revival in America.
Barlow will play Cathe, who finds a connection with Greg as they both search for purpose in a changing world. Roumie will play Lonnie Frisbee, the young hippie preacher who brings thousands into the movement with his charismatic and vulnerable messages. Williams-Paisley will play Charlene, Greg's struggling mother. Campbell will play Kay, Chuck's wife, with Ioannides playing Janette, his daughter. Bishop will play Dick, Cathe's father, and Jenkins will play Pilar, her mother.
Written by Jon Erwin and Jon Gunn, the film will be directed by Jon Erwin (I Can Only Imagine, American Underdog) and Brent McCorkle (Unconditional) and produced by Kevin Downes (I Can Only Imagine, American Underdog) and Jon and Andrew Erwin (I Can Only Imagine, American Underdog), along with Josh Walsh (The Jesus Music) and Daryl Lefever (Woodlawn).
"We're thrilled by the incredible cast that has come together," said Jon Erwin. "The movie is set in a very specific time and place, but the theme of finding a deeper meaning to life, in the midst of a fractured and broken world, is timeless. In his iconic performances, Kelsey has a proven ability to connect with audiences in a real, vulnerable way, which will make him a tremendous presence in this film."
Grammer added, "Jesus has been a profound influence in my life. I am proud to be a part of this film."
Erwin added, "If anything has been made clear over the past few years, it is how much we need each other. Yet with each passing day, it feels like we are more disconnected than ever before. The true story in Jesus Revolution reminds us that hope is never lost, and through even the most challenging of times, with faith, change is possible."
KELSEY GRAMMER, the five-time Emmy winner, will soon reprise his iconic role as Dr. Frasier Crane in a new "Frasier" series for Paramount+. He recently starred in the feature films The Space Between and The God Committee. He is represented by UTA and Vault Entertainment.
ANNA GRACE BARLOW recently starred on the Fox TV series "The Big Leap." She has also appeared in episodes of "The Goldbergs." She is represented by A3 Artists Agency and Gang, Tyre, Ramer, Brown & Passman.
JONATHAN ROUMIE plays Jesus Christ in the crowd-funded television series and global phenomenon "The Chosen." He is represented by Michael Abrams Group, and attorney Samuel Curphey.
KIMBERLY WILLIAMS-PAISLEY is well-known for her role in Father of the Bride and most recently in Sister Swap for Hallmark. She will soon be seen in Netflix's feature Dog Gone. She is represented by Gersh and LINK Entertainment.
JULIA CAMPBELL recently starred in the Paramount+ series "Tell Me a Story" by creator Kevin Williamson. She is represented by Innovative Artists.
ALLY IOANNIDES will be seen in the upcoming features Trim Season and The Nameless Days. She is represented by A3 Artists Agency.
NIC BISHOP recently appeared on the Apple TV+ series "Truth Be Told" and on the series "DC's Legends of Tomorrow." He is represented by A3 Artists Agency and Vault Entertainment.
JOLIE JENKINS recently starred in Netflix's series "Alexa and Katie" and "One Day at a Time." She is represented by TalentWorks and Mark Schumacher Management.
About Lionsgate
Lionsgate (NYSE: LGF.A, LGF.B) encompasses world-class motion picture and television studio operations aligned with the STARZ premium global subscription platform to bring a unique and varied portfolio of entertainment to consumers around the world. The Company's film, television, subscription and location-based entertainment businesses are backed by a 17,000-title library and a valuable collection of iconic film and television franchises. A digital age company driven by its entrepreneurial culture and commitment to innovation, the Lionsgate brand is synonymous with bold, original, relatable entertainment for audiences worldwide.
About Kingdom Story Company
Kingdom Story Company is an entertainment content company from the creators of I Can Only Imagine and American Underdog. Helmed by Jon Erwin, Andrew Erwin, Kevin Downes, and Tony Young, and in partnership with the studio Lionsgate, Kingdom Story Company endeavors to bring content infused with a rush of hope to audiences across the globe.