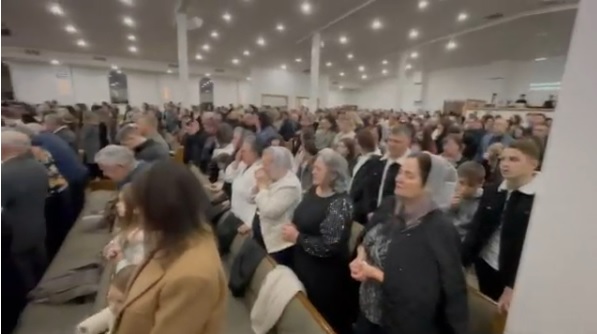 BY Oregon Faith News Note,
As Russian bombs, missiles and artillery shells pummel their ancestral homeland, Ukrainian Americans in Oregon have gathered together to sing, worship, and pray for the safety of loved ones back home. Others are raising money to help Ukrainian refugees fleeing their nation in front of an invading Russian military.
After Russia launched its invasion in the middle of the night, hundreds of Ukrainians and supporters protested the war in downtown Portland. The city has three Ukrainian churches representing the Bible, Baptist, and Orthodox denominations.
At a divine liturgy service at Portland's Saint John the Baptist Ukrainian Orthodox Church in late February, Father Volodymyr Yavorskyi sang prayers for those killed by Russia's onslaught while swinging a censor of incense smoke and leading a handful of worshippers with bowed heads, according to Oregon Public Broadcasting. Most of the 160 church members left loved ones behind in Ukraine, the priest said. He wants the United States and other western nations to help more because Ukrainian soldiers fight for the whole world.
Volunteers in the basement sold boiled pierogies and cabbage rolls to visitors, more than they see most Saturdays because of the conflict.
The Ukrainian Bible Church in Fairview, Ore., drew hundreds of people to a Sunday night prayer vigil to pray for peace and the safety of loved ones overseas. They sang. They prayed. They chanted. They cried. And they raised money for food, water, and medical supplies to help those injured or displaced in the attacks, according to KGW.com. Donors should note "help for Ukraine" and text the number "4891192" to 715-803-4772 or mail donations to PO Box 1918, Fairview, OR 97024.
An estimated 22,000 Eastern European immigrants called Multnomah County home in 2011, according to Portland State University researchers.