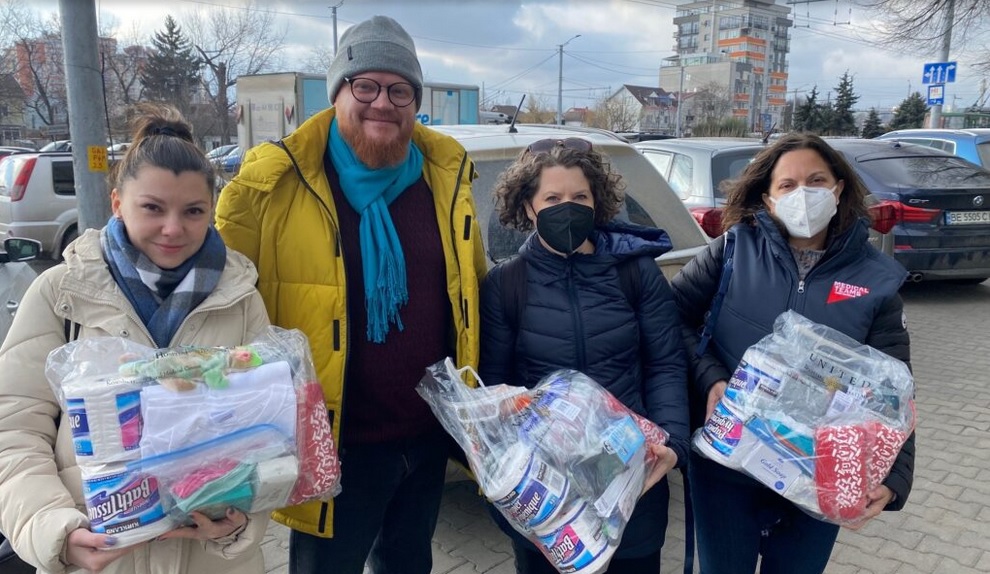 Medical Teams International,
An Oregon headquartered charity
Coram Deo is Medical Teams' former partner in Moldova. Currently, in response to the Ukraine refugee crisis, Coram Deo prepares hygiene kits and boxes of food on a daily basis and drops them off at a refugee transit center. Volunteers distribute the hygiene kits to Ukrainian refugee families and three meals a day are prepared for all of the Ukrainians in the transit center. ​
four people holding plastic bags filled with various hygiene items like toilet paper, toothbrushes, soap, etc. — supporting the Ukraine refugee crisis
Coram Deo and Medical Teams staff partnering to help Ukrainian refugees
​Medical Teams International began operations in Moldova in April 1997 by establishing a partnership with Ron Helton, an American missionary who worked in association with Kishinev Bible Church. Initially, Medical Teams worked in orphanages as an extension of the work of the Kishinev Bible Church. This included refurbishing some of the children's rooms in the orphanage with volunteers and sending Gift of Hope teams (i.e., donor teams that distributed gifts to the orphans at Christmas time).
In the early 2000s, Ron Helton left Moldova which resulted in the registration of Coram Deo in the country. Officially a local Moldovan agency, Coram Deo was then led by Rodica Cherbov. During that time, Medical Teams continued to support Coram Deo by providing project planning and funding, including volunteer teams for various projects. ​
In addition to the initial orphanage project, Medical Teams:​
– refurbished the burn unit at Chisinau Hospital
– deployed massage therapy teams to assist burn survivors' recovery
– deployed volunteer teams to orphanages (medical, physical therapy, and Gift of Hope teams)
– provided emergency medical service training in Chisinau and near the region of Transnistria
​Medical Teams ended its collaboration with Coram Deo around 2016-2017, but the agency continued operations on its own. Rodica's son, Vladimir, is now on the Coram Deo board. Vladimir reports that Coram Deo has a very good reputation within the country with helpful government networks and connections. Medical Teams also maintains a very good reputation with the government of Moldova.