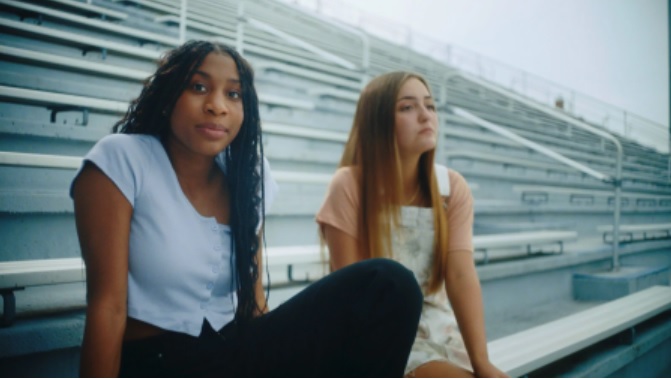 By Sheila Allen
By NW Baptist Witness
Photo: Honest questions students have about faith issues are explored in a series of videos available for free for individuals and groups.
A love of nature, music and the wonder of space were instilled in Mary Jo Sharp from her earliest days in Beaverton, OR. She was taught to ask big questions by her father, an avowed atheist, but those questions have served her well and she now invites others to ask questions and see the truth of God through a collaborative effort of videos called Darkroom Faith, which are newly available.
"Both my parents loved the arts and inspired me to consider the world I would live in while we enjoyed the symphony, ballet and Shakespeare," said Sharp. "I would often ponder what we are here for."
It was her high school band director that felt burdened to share his faith with her and gifted Sharp a Bible her senior year before she headed to college for a music education degree.
"I started reading the Bible and couldn't put it down as I saw a keen sense of justice and it made sense of morality," Sharpe stated. "It drew me toward 'right' and I went to college exploring faith."
Sharp did explore spiritual principles and professed her decision to follow Jesus, even as her family questioned her decision. As she married her husband, Roger, and he assumed the role of youth minister in the church they attended and she began to see real problems in the church in hypocritical, judgmental lifestyles and antithetical principles of life in those who professed devotion to Jesus.
"I knew that was what Jesus accused the Pharisees of and was wresting and wondered what I got myself into as my husband was called to ministry, so started investigating on my own," Sharp said. "I read books such as The Case for Christ and then researched atheists and heard their debates with Christians. Although this can be a hot topic word, I went through a process of deconstruction to find out what the core truth is."
She soon realized the atheist argument was not strong and the historical truth of Jesus resurrected bolstered her beliefs. After her husband completed seminary, Sharp began a master degree in apologetics at Biola University, an intellectual defense of the truth of the gospel.
Through a blog defending the resurrection called Confident Christianity, Sharp was launched into the public eye and started an apologetics ministry which led to various debates, including with those of the Muslim faith.
Sharp is currently an apologetics professor at Houston Baptist University, which allows her to live in Oregon and teach remotely. In addition, she has an active speaking ministry and is an author of several books, including Defending the Faith, Why Do You Believe That, Living in Truth, and her most recent –Why I Still Believe.
"I am involved with a group in Houston that realized Gen Z students didn't have a visually appealing platform that would grab their attention with questions about faith," Sharp stated. "Initially I was critiquing material for them because I have a heart for Gen Z. I eventually became director of content and we hired a production company to tell collected stories of Gen Z students and what they struggle with about faith.
"Every video is a narrative of someone's real story that we address and offer full curriculum if groups want to use it for further discussion."
Donors have funded the endeavor to allow individuals and groups use of the material free of charge so there are no roadblocks to faith, according to Sharp.
"We don't want to lecture, so this is invitational and can become student-owned learning," Sharp said. "We don't want to push too hard yet offer these truths to as many churches as. Doubt, faith and science are real, yet this is what the church is here for. We used actors to portray these real individuals with questions and we had the best conversations with the actors about faith issues while on set."
The first three videos became available in May, and a new one will be released each following month. Those interested can visit www.darkroomfaith.com for more information.