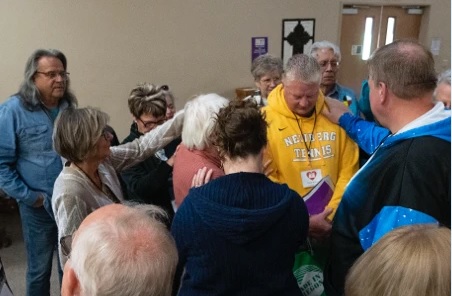 Prayer at the Heart draws more than 100 to central Oregon for two days or worship, prayer and dedications
By TIM HIRSCH
Christian News Northwest
Subscribe
(phot by Tim Hirsch)
More than 100 Oregon residents made the trek to the central Oregon to give honor to God by gathering at the state's geographical center for two days of worship and praise.
The event has also been repeated at many states throughout the union.
Prayer at the Heart got off the ground last year when it reached millions — in person and online — thanks to a July 23, 2021, gathering in Lebanon, Kansas. It was then that thousands of Christians made the trek to the geographic center of our country, stopping to pray for people and their towns and cities along the way. At the nationwide level, the event seeks to support nationwide prayer initiatives, hear from God through rooftop encounters, cry out to God for mercy and "another great spiritual awakening," travel across each state while praying and sharing God's love, and gather at each state's geographic center with praise and worship.
‍ The Oregon event started the afternoon of Friday, Oct. 21 when participants made the short trek from Powell Butte Christian Church to Post, Ore. where organizers dedicated Oregon — and its seven influential spheres of culture — to the Lord by pounding prayer stakes in the ground, a physical reminder that came in the form of old-growth cedar 4- by 4- by 13-inch stakes that will also include a double-sided printed page of 120 Bible verses. Organizers also brought water, soil and sand from each waterway in Oregon to wash the state with the "water of the Word" as part of the staking ceremony. They also involved Christians from the First Nations people.
Following the staking, activities picked up on Saturday with a day-long main event at Powell Butte Christian Church. The 100-plus in attendance heard from speakers addressing the seven mountains of prayer — family, church, education, media, entertainment, business and government.
The day started with an introduction by Oregon PATH coordinator Linda Hanratty.
"This is a historic prayer meeting," she said. "I don't want you to think of this as a prayer meeting, because this is a prayer momentum that we are developing."
"We're here to honor (God)," added PATH media coordinator Peter Carlson. "We're here to acknowledge that he is more than able to build his church. And thank you for being a part of that. Thank you for making the effort to be here."
Addressing the 7 Mountains of Prayer
Amongst those addressing the different prayer points was Kelry Kirschenmann, of the Hollywood Prayer Network, who spoke on the need for praying for entertainment and the media, but specifically Hollywood. One avenue for those interested in praying for Christians in Hollywood is the Hollywood Prayer Network (hollywoodprayernetwork.org), which pairs those in need of prayer with those seeking to serve God in Hollywood.
"I'm here to encourage you and tell you there are (Christians in Hollywood)," she said. "There is a remnant of that body of Christ that is truly devoted to the Lord and is truly devoted to seeing revival come to the arts and entertainment industries."
With that in mind, she challenged attendees to pray for those in Hollywood — and to do so out of love.
"God wants us to pray for people out of love," she added. "If we pray and don't have love in our heart, we're just a resounding, clanging gong. You can't (excuse yourself from praying for Hollywood by saying) they're all going to hell anyway; their marriages are going to fail anyways; they're just going to make terrible movies anyways. We have the power of life and death in our tongue, so, we have to bless Hollywood. (Through prayer), they are being slowly transformed."
Speaking on the state of the church at the event was Powell Butte Community Church Senior Pastor Trey Hinkle, who said that while many churches in Oregon are doing "wonderful things," there is also a lot of complacency present.
"The culture is corrupt — we all know that, (but) folks, the culture is corrupt in part because the church has been complacent," he said. "There are some in church that have allowed the perversion of the culture to come and seep into our midst, and we are now unwilling to call a sin a sin in our midst, first of all, and then in our culture."
He also said Christians should guard themselves against lazy prayers, prayers where they ask God to do it all with no more involvement on their part.
"God does have the power, but God has been a god from the very beginning who partners with his people," Hinkle added.
And referencing the Great Commission, he said the church, as a whole, has been lacking.
"If we had made disciples, the democratic republic that we live in would reflect Godly principles in their laws; if we had made disciples, our individual congregations would be much more focused on meeting people at their point of need with the hope that comes from the gospel of Jesus Christ — and not to make ourselves comfortable with the right color of carpet and the right color of walls and the right kind of music. We have lost focus. We have allowed ourselves to turn inward and create a club that serves our needs rather than fostering a servant's heart. We're neglecting feeding ourselves from the word of God (and) hiding his word in our heart's that we might not sin against him."
Addressing the government sphere of prayer was City of Tillamook Police Chief Ray Rau, who pointed to the need of those serving to honor God — in word and deed.
"That's what you see in leadership in this country," he said. "Whether it's law enforcement, the military or elected officials, we've stopped honoring God in our words and actions.
"God humbles us. We need to seek him in our hearts when we talk about what are we doing out here. How do we interact with people. Are we judging? Are we angry? Or are we honoring God?"
Rau also urged people to be open to God's plan for their lives.
"God puts us in a position where we're needed," he said. "Too many leaders in this country are not opening their hearts and minds into what God is telling them. We're not listening."
And addressing the education "mountain," was Newberg School District Board Chair Dave Brown, who recently survived a recall effort. Noting the persecution he — and other conservative board members have faced — Brown encouraged attendees to stand tall against evil.
"If you tell me something that's wrong, I'm not going to just stand there and agree with you," he said. "I'm going to stand up, and I'm going to stand tall, and I'm going to stand for the parents out there who, in the thousands, have called me or texted me saying please stand for me."
He also offered a challenge for others to do the same.
"What I'm asking you to do today is pray, but also stand up," he said. "Go to your school board meetings and go to your city council meetings…go to those things and get involved in your community. You've got to do it. People my age (retired) need to do it. I don't need to play golf that much. I need to get in and fight for the parents who can't fight for themselves."
Following each presentation, attendees met in small groups to petition the Lord over prayer points.
The next step of the Prayer In the Heart movement will be to bring similar events to each county in the state in 2023, followed by taking it to each city in 2024. To learn more about the movement and to watch a video of Saturday speakers, visit prayoregon.org/path/.