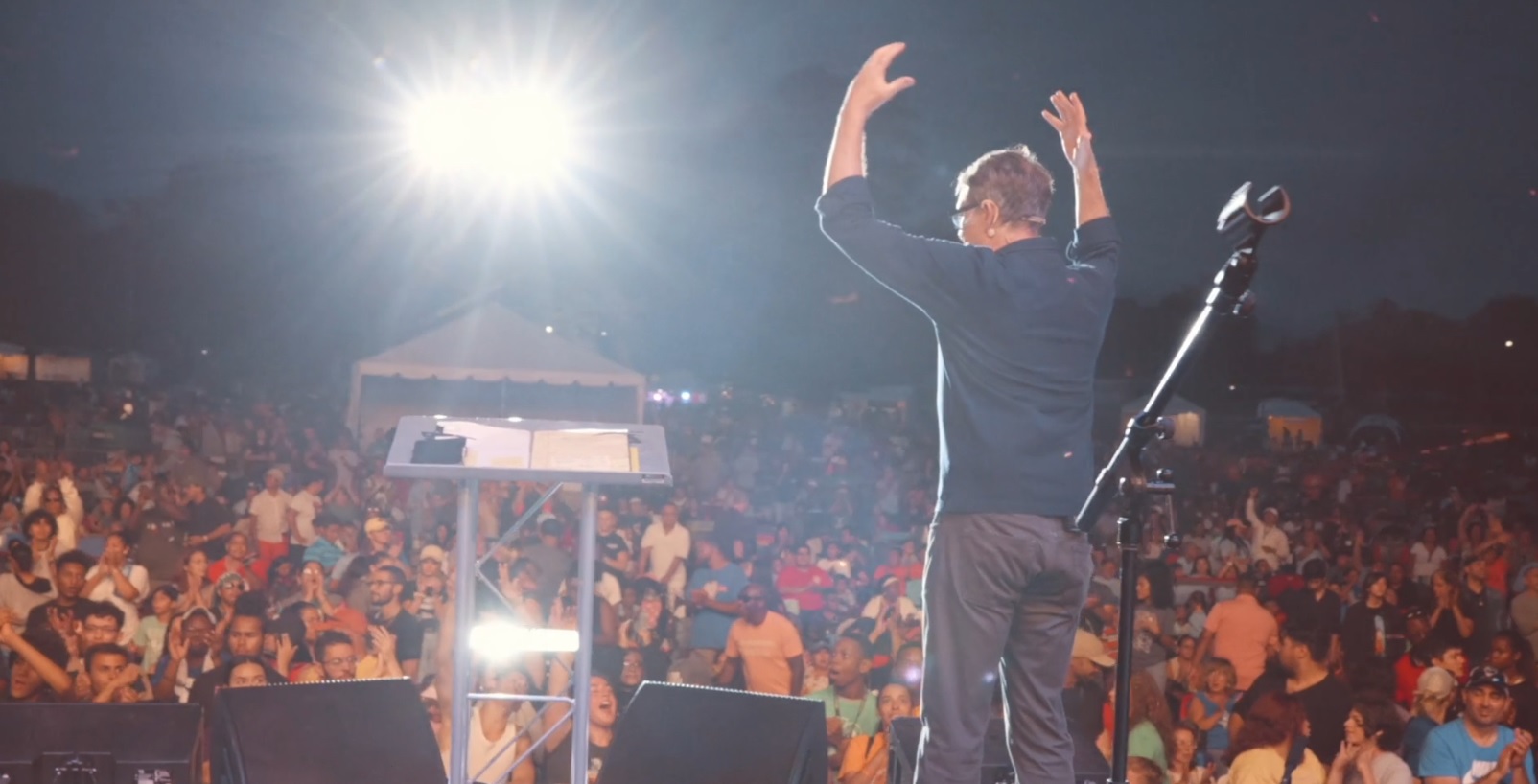 By Luis Paula Association
International ministry based in Beaverton, Oregon
(file photo)
Fourteen years after renowned evangelist Luis Palau's historic campaign in Argentina's capital city of Buenos Aires, the Palau Association returned to deliver the same message of hope to a new generation of Argentines, this time led by Luis Palau's son, Andrew Palau.
Standing in front of a sea of people in Buenos Aires' iconic Bosques de Palermo on the final night of the city-wide campaign, evangelist Andrew Palau shared about the abundant life found only in Jesus and invited the crowd into a personal relationship with the living God. The November 19 event was a fitting capstone to the historic campaign that united more than 1,000 churches and reached more than 200,000 people in person. Millions more were reached through radio, television, and social media.
In total, the Palau Association recorded more than 20,000 responses to the Gospel as a result of the evangelistic campaign.
In the week leading up to the festival, the Palau Association worked with local leaders to coordinate multiple outreaches throughout the city. Events included gatherings for prisoners, meetings with high-ranking government officials, and a dinner for more than 1,000 business and civic leaders. Andrew's wife, Wendy, led two large outreaches for women in the cities of La Matanza and Belgrano, reaching more than 3,200 women in total.
As is the case in all Palau campaigns, a special emphasis was placed on local leadership. The Palau Association spent more than three years planning this campaign, gathering pastors, evangelists, and believers from throughout the region and empowering them with tools and opportunities to use their own gifts to further the unity of the Church and the work of the Kingdom. Andrew and Wendy Palau personally joined in this effort during the week of the festival, hosting a gathering of more than 600 pastors and church leaders for a night of encouragement and teaching, as well as a gathering for more than 150 younger evangelists from throughout the region.
This festival was built on decades of committed ministry in Latin America from Andrew's parents, Luis and Pat Palau. While Luis faced consistent opposition when he first started preaching the Gospel on the streets of his hometown in Argentina seven decades ago, there has been a dramatic change in the receptivity of the Gospel and the growth of the Church in recent years.
"It was such a privilege to be back in Argentina where God has used Dad and Mom and our team so powerfully for so many years," said Andrew Palau. "Many faithful believers have given their lives for this region. They were faithful to the Lord's calling and planted many Gospel seeds. And now, to see the fruit of their hard work, and to be able to take part in the great harvest – it's humbling and thrilling."
The culminating festival, taking place over two days in the heart of Buenos Aires, featured Latin artists from Argentina, Puerto Rico, the Dominican Republic, Spain, Mexico, Colombia, and the USA. It also included a children's festival on Saturday, November 19, as well as a large health clinic for the city's homeless population.
While local leaders continue to follow up each new believer, the Palau Association will move on to support similar campaigns in cities across the globe. Upcoming festivals over the next 12 months include San José, Costa Rica; Austin, Texas; Klamath Falls, Oregon; Teesside, England; Nairobi, Kenya; Montevideo, Uruguay; and Cairo, Egypt.
You can learn more about the Luis Palau Association and their worldwide work at www.palau.org.
About Andrew Palau:
For more than 25 years Andrew Palau has played a key role in the ministry of the Luis Palau Association (LPA), which was started by his father, evangelist Luis Palau. Andrew has been instrumental in building the LPA model for citywide outreach as an evangelist, director, and key team leader. He has guided campaigns, led church relations efforts, trained thousands of believers in friendship evangelism, and proclaimed the Good News of Jesus Christ in person to hundreds of thousands of individuals around the world through evangelistic campaigns. Andrew's festivals have brought him and the Palau Association into partnership with thousands of churches in cities throughout Latin America, Africa, Asia, Europe, Australia, the Caribbean, and the United States of America. Andrew's weekly radio broadcasts are heard by millions of people on thousands of radio outlets around the world. He is also the author of multiple books, including The Secret Life of a Fool, a retelling of his personal journey to faith in Christ, and What is Christmas?, a groundbreaking evangelistic book published in China in 2012.