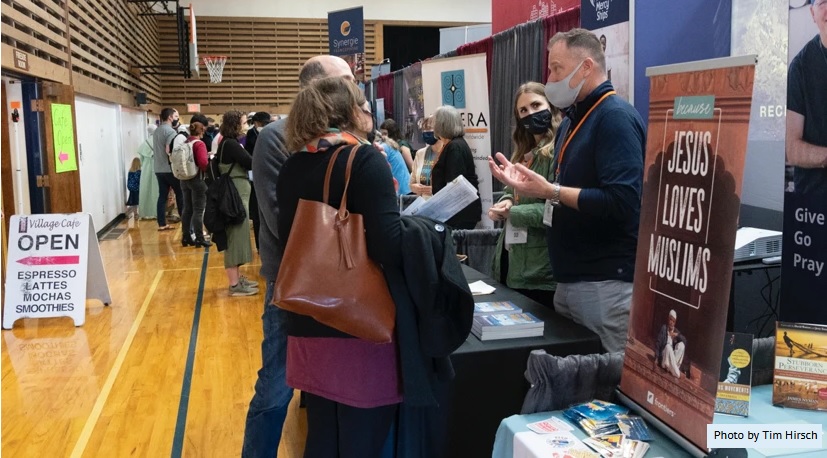 Mission Connexion, set for Jan. 20-21 at Sunset Church,  offers chance to discover mission opportunities, enrichment and more.
Photo by Tim Hirsch
By TIM HIRSCH
Christian News NW
You've accepted Jesus, earnestly sought him and grown in your faith. But what's the next stop in this journey? In essence, what's next?
That's the question that the organizers want to put to those attending this year's Mission Connexion conference, scheduled for Saturday, Jan. 20-21 at Sunset Church, 14986 N.W. Cornell Rd., Portland.
The event starts in earnest on Friday, Jan. 20 with a Leadership Conference featuring Steve Richardson designed to equip church mission leaders, followed by a keynote by Dr. Eric Joseph, president of Multnomah University.
The conference continues all-day on Saturday, Jan. 21, starting with a 9 a.m. keynote by Will Graham, vice president of the Billy Graham Evangelistic Association. Additional plenary speakers will include Dr. Mary Ho, and Richardson. KPDQ radio host Georgene Rice will serve as emcee.
Designed to connect Christians with the many mission opportunities available here and abroad, the event will feature 100 workshops addressing a variety of tracks such as apologetics, business as mission, Christ-centered community transformation, city-wide kingdom collaboration, cross-cultural training, developing senders, digital disciple making, effective evangelism, ethnic and cultural challenges in missions, preparing your family for missionary service, local outreach and more. There will be four workshop sessions timeslots: one on Friday, Jan. 20, 5:30-6:30 p.m.; and three on Saturday, Jan. 21, 11 a.m.-noon, 1:30-2:30 p.m., and 5:30-6:30 p.m.
Plus, there will be more than 80 exhibitor booths, each featuring a different organization and corresponding mission opportunities. Online registration is required. To sign up, visit https://missionconnexion.global/northwest/.
A pre-event prayer launch will be held Thursday, Jan. 19.
Many Opportunities to Get Plugged In
With the theme of "Here I Am…What's Next?" the event takes inspiration from Isaiah 6:8 when the prophet Isaiah responds to God's call, saying (as recorded in the ESV) "Here I Am, Send Me."
Mission Connexion Director Bill MacLeod says that both this year's theme and Isaiah's response is indicative of the number one question of those attending — what can they do tomorrow in response to the opportunities they learn of at the conference.
Thanks to its many elements, the conference, though, isn't just for those ready to sign up for short-term missions. MacLeod says its beneficial for many including the pastor who has a theological question about missions and the student interested in mission opportunities.
"A lot of conferences specialize (on a particular topic), but we're a very generic conference," he told CNNW. "We want the whole church involved. Not everyone is going to be mission-minded, but there's something that will appeal to the person familiar with missions (yet) simple enough for someone who maybe became a Christian the week before. (Anyone) can go and talk to people at the exhibitor booths and get a better understanding at what missions mean to them."
Featured speakers to include Will Graham
He also hailed the featured speaker schedule of Graham, Ho, Richardson, and Joseph as a great learning opportunity.
Dr. Mary Ho is the International Executive Leader of All Nations (http://allnations.international), a global Christian missions organization with workers making disciples and church planting in 45 countries. Ho is passionate about finishing the Great Commission in this generation by sharing the love of God among every people and in parts of the world where the name of Jesus Christ is little or not known. She received her Doctor of Strategic Leadership from Regent University, VA, U.S.A. in 2016.
Steve Richardson, president of Pioneers-USA, was raised in Indonesia, where his parents took the gospel to a jungle tribe, a story documented in his father's missionary classic, Peace Child.
He and his wife Arlene returned to Southeast Asia in 1986 to plant churches among a major Muslim unreached people group. With their team of 40 coworkers, they developed an innovative approach to church planting called Lampstand. Richardson also helped start a center for evangelism, various media ministries, English language schools, and a major "business as mission" project. Later they moved to Australia where they helped launch Pioneers in Australia and New Zealand.
Since 1999, Richardson has served as president of Pioneers-USA. Pioneers now has approximately 340 teams that are impacting more than 500 unreached people groups.
Dr. Eric Anthony Joseph completed his education at Biola University. His degrees include a BA in Communications with an emphasis in radio, television, and film, M.Div. in Bible Exposition, MACEd in Christian Education, EdD in Intercultural Studies, and (exchanged for) a Ph.D. in Intercultural Education. During Dr. Joseph's stint as an educator, he held several university leadership roles and Perry Publishing and Broadcasting named him Educator of the Year for the State of Oklahoma. He also appeared in Who's Who Among America's Teachers as one of the most prominent teachers in America. As the 1985 National Christian Colleges Athletic Association (NCCAA) Male Athlete of the Year in track and field, Dr. Joseph understands the demands of a Christian student-athlete. In high school, he was invited to participate in the Junior Olympics.
Will Graham is vice president and associate evangelist of the Billy Graham Evangelistic Association, and executive director of the Billy Graham Training Center at The Cove in Asheville, N.C. The third generation of Grahams to proclaim the Good News of Jesus Christ under the banner of the BGEA, Graham has shared the Gospel with more than 1 million people across six continents since beginning his evangelistic ministry in 2006. Will and his wife, Kendra, have two daughters and a son, and live in the mountains of North Carolina.
For more information about the conference or to register, visit https://missionconnexion.global/northwest/.
What's Your Next Step?
Mission Connexion, set for Jan. 20-21 at Sunset Church in Portland, offers enrichment as well as booths highlighting mission opportunities