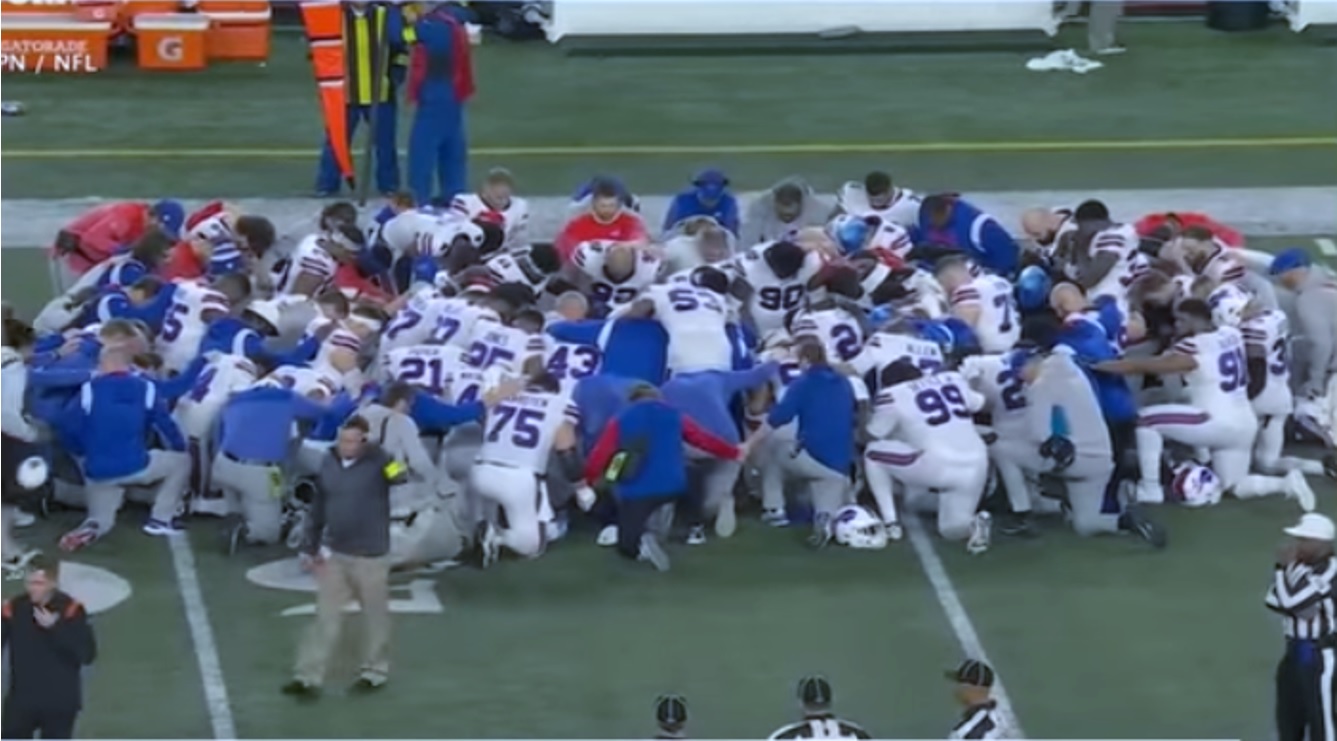 By Catholic League on Religious and Civil Rights,
Catholic League president Bill Donohue comments on the NFL's reaction to Damar Hamlin's serious injury:
The day after Buffalo Bills safety Damar Hamlin went into cardiac arrest during Monday night's NFL game, ESPN analyst Dan Orlovsky said on air, "I heard the Buffalo Bills organization say that we believe in prayer, and maybe this is not the right thing to do, but it's just on my heart and I want to pray for Damar Hamlin right now" (my italics). And so he did.
But why wouldn't it be the right thing to do? Isn't that what most Americans do in times of adversity? They pray. They don't pray to God that he might send in the therapy dogs—they pray that he might intervene and offer relief to the suffering.
Unfortunately, Orlovsky was not acting irrationally. ESPN, like the NFL,  embraces the politics of the Left, and that means it is strongly committed to the secular agenda. However, it appears that the sports commentator has not been called on the carpet, with good reason: the outpouring of prayer has been so overwhelming that only a fool would want to sanction someone for praying in public for Hamlin.
The NFL is also experiencing a new tolerance for prayer. Every one of the 32 NFL teams amended their Twitter photo to say, "Pray for Damar." In doing so, they followed the lead of the players who knelt in prayer on Monday night.
The NFL's left-wing commissioner, Roger Goodell, got the memo and did not want to be seen as an outlier, especially given that most of the players who prayed were black: being the woke kind of guy he is, he did not want to be branded as insensitive, or worse.
Hamlin attended Central Catholic High School in Pittsburgh, and is loved by the school's administrators and students for regularly revisiting his alma mater, and for his yeoman charitable work. His family issued a statement asking, "Please keep Damar in your prayers."
Public displays of group prayer at NFL games extends back to 1990. That is when the chaplains of the opposing teams, the New York Giants and the San Francisco 49ers, requested that the players huddle in prayer after the game. Giants tight end Howard Cross, one of the spiritual leaders on the team, explained, "We were just kneeling. …A simple act of kneeling is not aggressive. You're surrendering at that moment."
Things have since changed. When the Colin Kaepernicks of today take a knee, it isn't about prayer, and it certainly isn't about surrendering to God. It's about politics and victimhood.
Things changed again in 2019. That is when New Orleans Saints linebacker Demario Davis was fined $7,000 by the NFL for violating its "personal message" rule. His crime: The devout Christian wore a headband with the phrase, "Man of God."
Rule 5, Section 4, Article 8 of the 2022 NFL Rulebook is titled, "Personal Messages." Here is part of what it says. "The League will not grant helmet decals, arm bands, jersey patches, mouthpieces, or other items affixed to game uniforms or equipment, which relate to political activities or causes, other non-football events, causes or campaigns, or charitable causes of campaigns."
This policy was invoked against Davis for his religious message. Had he waited a year, following the Black Lives Matter riots of 2020, and decided to promote a left-wing cause on his headband, he would have been applauded by Goodell.
Beginning in 2020, the NFL has refused to enforce its "personal messages" rule when it comes to "social justice" causes. In fact, it authorizes violations of its policy.
On the apparel of NFL players today can be seen such catchy phrases as "It Takes All Of Us," "Inspire Change," "Stop Hate," and "End Racism." No "End Abortion" or "Pray to God" slogans are allowed. It even has stencil displays in the end zones that say, "Black Lives Matter."
In other words, acknowledging God is a problem in the NFL, but acknowledging a violent Marxist organization—one that is being investigated for massive tax fraud violations—is okay.
It would be so great if the NFL's newfound support for prayer signaled an epiphany. But we won't get our hopes up. It is much more likely that the next time there is a "prayer-like" moment during a game, the therapy dogs will be unleashed on the field.
Contact the VP for Corporate Communications: [email protected]