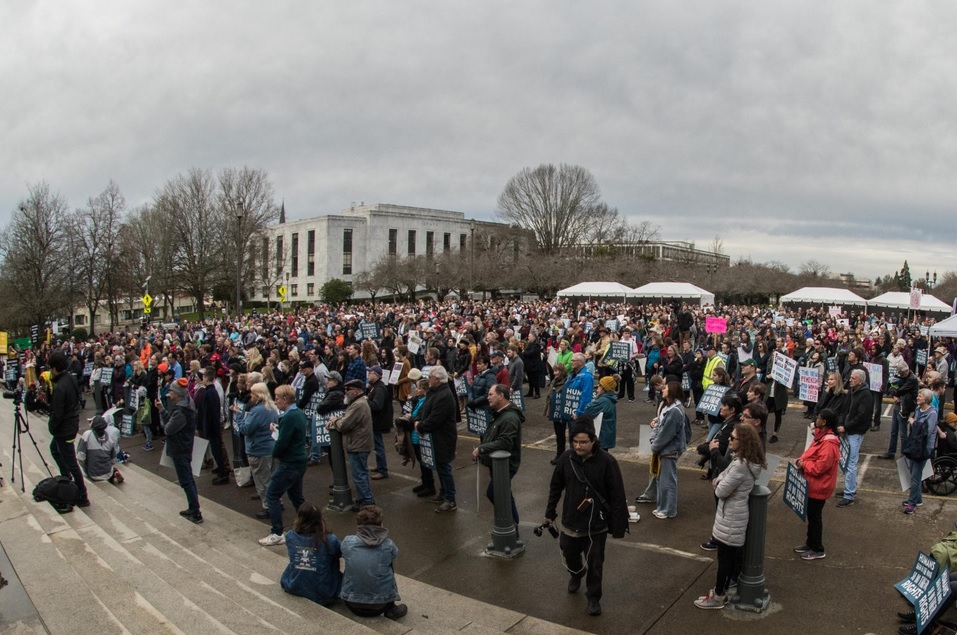 (photo: 2020 Capitol rally)
By Oregon Right to Life,
Thousands expected to attend
WHAT: The Oregon March for Life will be held this weekend, following the 50th anniversary of Roe v. Wade and Doe v. Bolton, the two Supreme Court cases that effectively legalized abortion in America. Oregon's own abortion law was passed in 1969.
WHY: Over 64 million abortions took place between 1973 and 2022 when Roe v. Wade was overturned. That means over 64 million people are missing from all around the United States because their lives were lost to legal abortion under Roe v. Wade and Doe v. Bolton. 
Oregon has zero restrictions on abortion, allowing abortion all nine months of pregnancy. 70% of Oregonians oppose late-term abortion, with far more opposing Oregon's lack of protection for infants born alive in the middle of abortion procedures. (The CDC reports at least 143 infants were born alive during abortion procedures between 2003-2014.)
WHO: 
State Representative Tracy Cramer, HD 22

Archbishop Alexander Sample

Melody Durrett, President Oregon Right to Life

Cindy Brunk, State Coordinator Silent No More 

Marion County Commissioner Danielle Bethell

Darren Williamson, Director, NW School of Discipleship

Lois Anderson, ORTL Executive Director
WHEN: Saturday, January 28, with the band beginning at 2:15 pm. Speakers begin at 2:30 pm. The march begins at 3:30 P.M. and will follow a mile-long route around Capitol grounds.
WHERE: Oregon State Capitol