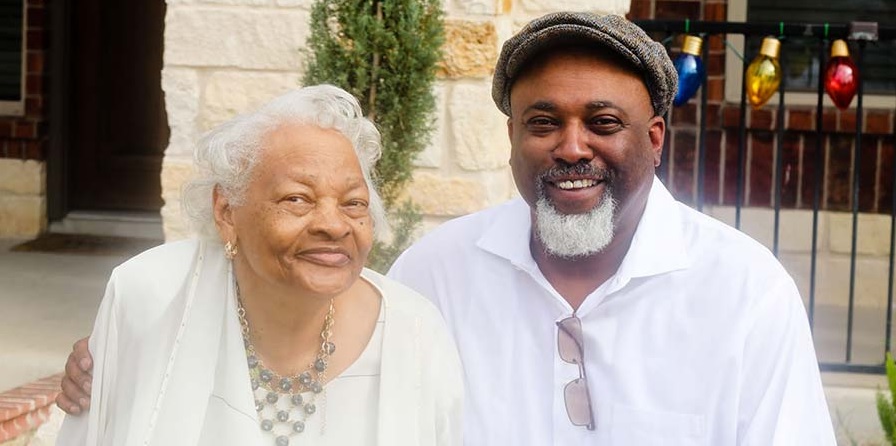 By Bruin Blog
George Fox University
When I first heard Kenneth Hoover's story, I was struck by the sheer strength of his faith in God.
His faith is what empowers him to show empathy to others as a social worker who specializes in substance abuse. His faith is what enables him to help others as they face their own seemingly insurmountable challenges. He is a true disciple of Jesus, striving to show God's unconditional love to those who have been forgotten, to those who have given up, and to those who need it most.
Hoover was called to help people in need at a young age, starting with those closest to him.
"I really became a social worker at the age of 12," he says. "My dad struggled with substance abuse, and I helped my mom care for him growing up."
That was the start of Hoover's journey toward a career in social work, but he still had a long way to go.
After witnessing his father struggle with substance abuse, Hoover struggled with substance abuse himself. In time he overcame it, and he became determined to go to school to learn how to help others with similar experiences. In 2012, he enrolled at Olympic College in Bremerton, Washington, to obtain his chemical dependency license.
While there, one of his professors suggested that Hoover pursue a bachelor's degree in social work (BSW). He argued that a BSW would be more versatile and allow Hoover to help more people and provide more resources. After graduating with his associate degree in chemical dependency counseling in 2013, Hoover made his way to George Fox's social work department.
"I had the desire to do more and to help more," he says. "That's why I ended up in social work."
Hoover excelled in his studies. He graduated with a BSW in 2016, and he continued on to pursue his master of social work (MSW) degree at George Fox.
Kenneth Hoover in church
As a graduate student, Hoover originally planned to intern at the United States Department of Veteran Affairs (VA). But those plans fell through, and he ended up interning at LifeWorks Northwest, a treatment and mental health center in Portland.
In the end, it turned out to be God's plan for Hoover. As an undergraduate, he had worked with a men's group at the Salvation Army. Now he was placed on an all-women unit at LifeWorks. It helped him grow in his studies and taught him how to relate to and work with different people. He also got to make a big difference in others' lives – especially in the life of one woman.
"At one point during my internship, I was covering for someone else who couldn't make it to work," he recalls. "While I was covering for this coworker, I worked with a woman who really appreciated my approach to counseling. She ended up going to school to get her certification in substance abuse, and she became a counselor herself. Now she works at LifeWorks NorthWest, the very place we met."
Hoover didn't plan on interning at LifeWorks, but it turned out to be exactly the place he needed to be. God used him there to change someone's life forever.
Now he works at American Lake Veterans Hospital in Joint Base Lewis McChord, Washington, where he serves high-risk veterans with co-occurring disorders. Hoover is a veteran himself: He served for 18 years in the military from 1984 to 2002. At the VA, he gets to connect to other veterans as he guides them to recovery.
Hoover is extremely happy in his career as a social worker. He enjoys the process of getting to know his clients, and he loves listening to their stories and the challenges they have been through.
"Helping others accomplish their goals and face some of the biggest challenges a person can face gives me a feeling of accomplishment that is truly difficult to describe," he says.
For Hoover, it's most rewarding when clients remember what he has taught them and when they share how the practices and habits they've developed together help them in their daily lives.
"It's rewarding to know that my clients are contributing to society and healing, and that I've had a small part in that change," Hoover says. "We are connected forever, in one way or another."
Hoover is grateful for the education and experiences he gained in the MSW program at George Fox. He was drawn to the university for the Christian-based education, and he valued the fact that Fox is an educational setting where people can pray and worship Jesus. He also loved the diversity he found at Fox, specifically in his cohort. It included people of all ages and all nationalities, and they each brought a different and interesting perspective to the table.
"George Fox was a safe place to grow," he says. "Fox helped me learn how to work with others that have different perspectives and passions than I do. For example, one of my classmates was very passionate about foster care and serving disadvantaged youth. I did not have experience when it came to helping that community, but I was able to learn from my classmate."
George Fox didn't just help Hoover grow his knowledge about social work; it also helped him learn more about himself and grow as an individual. Helping others has put Hoover's own life into perspective and allowed him to see the ways in which he might be privileged.
"It's when you hear stories about people who have lived their entire lives in foster care, who have been continually abused, who have developed substance addictions, and who have never known what love is that you are given perspective," he says.
Hoover is hoping to earn his independent clinical social worker license (LICSW) this year, and he's pursuing his passion for helping others with substance addiction and mental health issues.
He is thankful for the staff and faculty at George Fox, and for his parents, who unfortunately are no longer with us. His mother got to see him graduate with his bachelor's degree, and it's a memory he holds close.
"I'm glad my mom got to see the change George Fox made in me."