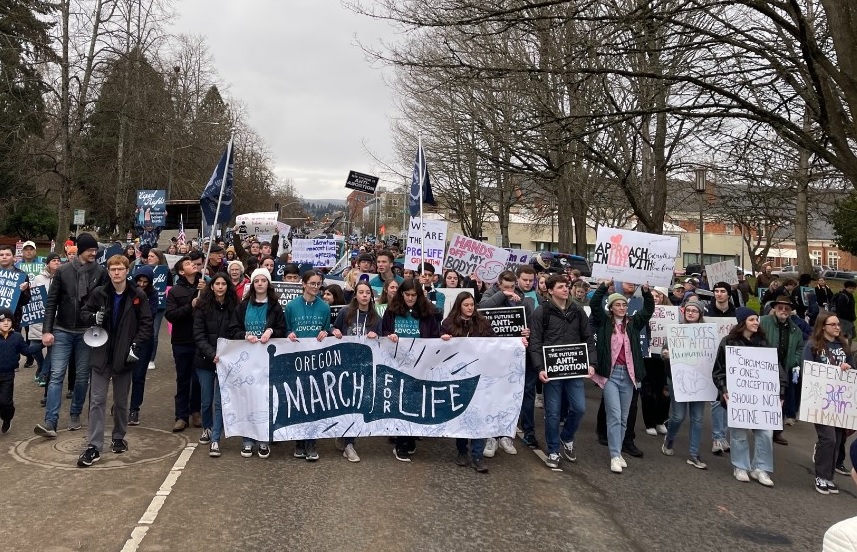 Salem, Ore.—On Saturday, January 28, over 3,000 pro-life Oregonians gathered at the Oregon State Capitol to remember the over 64 million lives lost to abortion under Roe v. Wade. This was the first Oregon March for Life following the recent Supreme Court decision that reversed the decision after almost 50 years. The March featured Representative Tracy Cramer (HD 22) as emcee, joined by Marion County Commissioner Danielle Bethell and others.
"Just a year ago, we didn't believe we'd see the end of Roe v. Wade," commented Oregon Right to Life executive director, Lois Anderson. "Our strategy will not change post-Roe. The pro-life movement is driven by peace and compassion and will only continue in love for mothers and their children as we work to restore legal protection to unborn human beings."
The 2023 Oregon March for Life was the first since the Supreme Court overturned Roe v. Wade in Dobbs v. Jackson Women's Health Organization. However, Dobbs did not directly change policy in Oregon where abortion is still legal until the moment of birth. In fact, taxpayer funds cover approximately 60% of abortions in the state, and abortions are available during every stage of pregnancy.