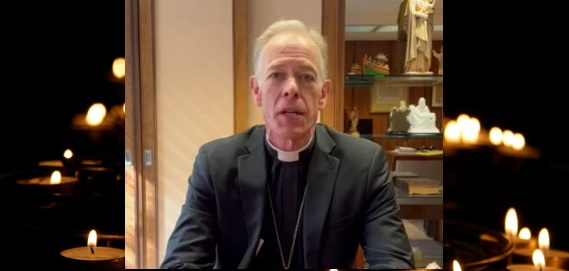 By Archdiocese of Portland, Oregon
Statement of Archbishop Alexander K. Sample on HB 2002
I join with my brother Bishop, the Most Reverend Liam Cary, Diocese of Baker, in opposing Oregon House Bill 2002. This piece of legislation is abhorrent for many reasons:
First, it completely undermines parental authority to exercise responsibility and care for children at a time when youngsters most need parental guidance and concern.
– It severs the relationship of trust and transparency that should exist between parents and their children.
– It targets minor children while their bodies and minds are still developing and encourages them to seek treatments and procedures that have irrevocable results for which they may be completely unprepared.
–  It advocates for "gender affirming" care for individuals of all ages.
Second, it promotes the taking of innocent human life through mandated access to medication abortions.
Third, it expands abortion on demand and "gender affirming" care into rural areas and college campuses.
Fourth, it forces insurers, medical and mental health professionals, educators, and many others to participate in providing medical procedures in which they may not believe, all at taxpayer expense. There is no meaningful religious exemption in this legislation.
Finally, it is completely unnecessary since children fifteen and older already have the access sought by this legislation. It is unclear what purpose is served by offering children from ages one to fifteen the ability to seek abortion and gender-affirming treatment without their parents' consent.
The passage of HB 2002 does not need to be inevitable. I will oppose HB 2002 and I urge every faithful Catholic and person of good will in this Archdiocese to do the same.
__________________________________
Most Reverend Alexander K. Sample
Archdiocese of Portland in Oregon