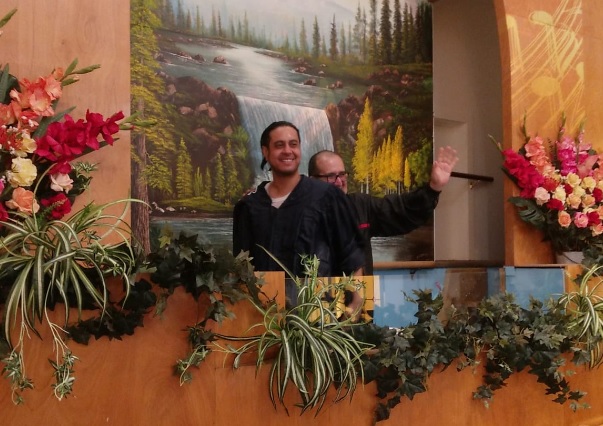 By Yván Balabarca
NW Adventist,
God is Almighty and He calls His sons and daughters in diverse ways.
Henry Maldonado, a young man born into a Christian home, always loved and feared the Almighty; however, his life led him into a career which offered success, but distracted him from God.
Though still aware of God's love, Maldonado wandered onto dark paths and began to feel keenly the absence of a relationship with his Heavenly Father in his life.
As the enemy pulled him deeper into the dark, Maldonado found himself struggling to the point of considering ending his life. On Nov. 17, 2022, as he battled his inner demons, he saw what felt to him like an external demon — a terrifying image on the wall of his room.
Afraid and unsure, Maldonado sought out friends who could help him draw closer to God, and on that day, he heard a voice telling him, "Look for the fountain."
The fervent prayers of Maldonado's God-fearing parents begged the Lord to bring Maldonado to surrender to Him. But although their son drove by Seattle Hispanic Church several times, he did not dare to enter. However, everything changed on Thursday, April 6, 2023.
As he drove his car past the church, Maldonado saw someone standing at the door. From his car, Maldonado called to the man and asked what was going on that evening, and was told the church was holding an evangelistic series. Without hesitation, Maldonado found a parking spot, got out of his vehicle and headed into the building.
That night, he was greeted with love and warmth by the church. Upon entering, his gaze fell on the baptistry, and he remembered the words, "Look for the fountain." At that moment, he understood that God was leading him to that particular church, and the people there welcomed him with great affection.
After this experience, Maldonado immediately adjusted both his work and personal life to align with his resurrected faith. He was baptized and has become a messenger of God's wonderful love for other young people. His transformation has been evident and today he enthusiastically shares the story of his encounter with the Almighty.
Maldonado's life is a living testimony to God's transforming power and how His love and guidance can take a person from deep darkness to transforming light. We pray God will continue to bless him on his life journey as his personal testimony inspires others to join him in seeking the fountain of divine love.
God has hundreds of people ready to surrender their lives to Him, and we need to be ready to receive them. So far this year, 23 precious people have been added to our church family, but we know God has even more to add because He is the Almighty, Wonderful, Mighty God, Eternal Father, Prince of Peace and Jehovah of the heavenly armies.