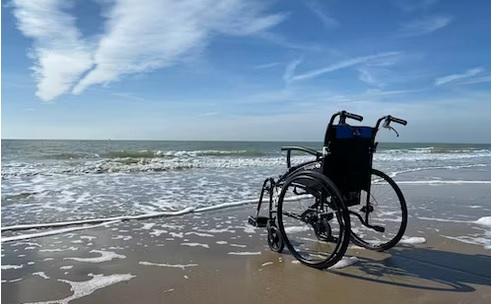 By Joni Eareckson Tada, Randy Alcorn
Randy Alcorn of Eternal Perspectives Ministry
Based in Oregon
Jesus promised that in Heaven, those who endured difficult things on Earth would be comforted for them (Luke 16:25). The comfort implies memory of what happened. If we had no memory of the difficult things, why would we need comfort? How would we feel it?
It seems likely that recalling the reality of our past troubles, sorrows, and sins would set a sharp contrast to the glories of Heaven, as darkness does to light, as Hell does to Heaven. We would lose this contrast if we forgot what sorrow and suffering was, and how Christ used them in our lives to glorify Himself.
I love what Joni Eareckson Tada says in her booklet Hope . . . The Best of Things:
I sure hope I can bring this wheelchair to heaven.
Now, I know that's not theologically correct.
But I hope to bring it and put it in a little corner of heaven, and then in my new, perfect, glorified body, standing on grateful glorified legs, I'll stand next to my Savior, holding his nail-pierced hands.
I'll say, "Thank you, Jesus," and he will know that I mean it, because he knows me.
He'll recognize me from the fellowship we're now sharing in his sufferings.
And I will say, "Jesus, do you see that wheelchair? You were right when you said that in this world we would have trouble, because that thing was a lot of trouble. But the weaker I was in that thing, the harder I leaned on you. And the harder I leaned on you, the stronger I discovered you to be. It never would have happened had you not given me the bruising of the blessing of that wheelchair."
Then the real ticker-tape parade of praise will begin. And all of earth will join in the party.
And at that point Christ will open up our eyes to the great fountain of joy in his heart for us beyond all that we ever experienced on earth.
And when we're able to stop laughing and crying, the Lord Jesus really will wipe away our tears.
I find it so poignant that finally at the point when I do have the use of my arms to wipe away my own tears, I won't have to, because God will.
Joni shares more thoughts on wheelchairs and Heaven in a segment on her radio program:
…I always say that in a way, I hope I can take my wheelchair to heaven with me—I know that's not biblically correct, but if I were able, I would have my wheelchair up in heaven right next to me when God gives me my brand new, glorified body. And I will then turn to Jesus and say, "Lord, do you see that wheelchair right there? Well, you were right when you said that in this world we would have trouble, because that wheelchair was a lot of trouble! But Jesus the weaker I was in that thing, the harder I leaned on you. And the harder I leaned on you, the stronger I discovered you to be. So thank you for what you did in my life through that wheelchair. And now," I always say jokingly, "you can send that wheelchair to hell, if you want."
That thought tickles me, but not long ago when someone heard me say that, they replied, "Oh, Joni. You can't mean that. Look at how God has changed you through your wheelchair. Look how close you've drawn to Jesus because of it. And look at the ministry that came through it and all the people reached. Please, don't say you want God to kick it out of heaven," my friend said "Why, the Lord just may transform it into something golden and glorious studded with beautiful jewels for every person you've reached for Christ through that wheelchair of yours."
And you know what? She had me. She stumped me. After all, the Bible does say that it has been "given" to us to suffer for his sake. My wheelchair is a gift from God—a gift! I never would've chosen this gift, but since God chose it for me, I'll take it as a gift, hard as though it may be at times. So there may be such a thing in heaven as holy wheelchairs… if God's throne has wheels, and the book of Daniel makes it crystal clear it does… then who am I to say that there won't be other chairs in heaven with wheels on them, too? Not to sit in, thank the Lord, but wheelchairs as symbols of the bruisings of a blessing that God has given people like me when he had blessed us with the gift of suffering.
So, friend listening, if you are in a wheelchair, or using a walker, or a cane or crutch…try imagining it gilded and golden and encrusted in jewels. Oh, it's a strange and humorous picture, but remember, it is the gift that causes you to be weak—and the weaker you are, the stronger you will discover your Lord and Savior to be. More than 40 years in my wheelchair has taught me that—and in heaven, whether or not my old wheelchair is parked up there by the gates of pearl, feel free to join me in dropping on brand-new, grateful glorified knees before our Savior for all that he has done through our sufferings, yours and mine.
If you're not aware of the new Beyond Suffering Bible from Joni and Friends, I highly recommend that you take a look at it. (See my blog on the Beyond Suffering Bible.)
Randy