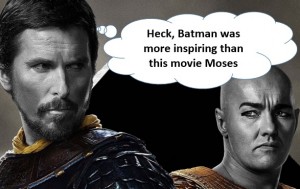 After Noah, I'm skipping Exodus
By Guest Opinion,
Oregon Faith Report
After I walked out of the movie Noah, I have become much more discerning in my herd mentality to rush to see the next faith film. The problems of the movie Noah seemed to repeat themselves with the new movie "Exodus: gods and Kings". Critics faulted "Exodus" for portraying God as distant, uncaring and foreign, which is exactly what Noah did.
This time I see the warning signs. The fact that the director, Ridley Scot, just commented three years ago that "biggest source of evil is of course religion" should be a hint of what is to come. If you have seen, Scot's film "Kingdom of Heaven" about the Crusade's, you can definitely feel a sense of religious bitterness and crowning humanism over spiritual things.
Exodus also leaves out the Moses birth redemption. You cannot understand the killing of Egyptian's sons without the context of Pharaoh's killing of Hebrew children. Exodus: Gods and Kings also leaves out the Passover. Passover is the world's oldest living religious ceremony in existence. To leave these things out is to kill the spirit, life and meaning of Exodus in order to make money from believers.  We shouldn't be giving their money to people who disrespect some of history's greatest moments and greatest people.