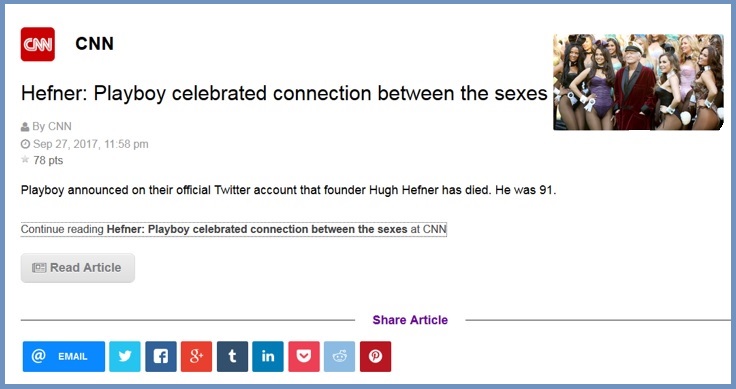 CNN backtracks Playboy headline, lessons from Portland
By M. Martin
Oregon writer
All it took was a few hours before CNN pulled their ridiculous headline "Playboy celebrated connection between the sexes" which was chosen to recognize the passing of Playboy founder Hugh Hefner. The headline represents the media attempt to treat pornography as a clean, upstanding everyday activity. In fact the headline is so generic it could apply to online dating services or the Dr. Phil Show.
Pornography has been anything but clean and positive for America and for Portland. The pornography industry is one that tops other businesses for worker drug use and suicides. Long ago Portland was recognized as having more strip clubs than the average city. Now today, Portland is talked about having more human sex trafficking than the average city. This is a striking example of how one legal pornographic activity creates a more dangerous pornographic activity. Sadly, it has been minors who get caught up in the exploitation at both ends. Read how 15 Oregonians were caught in a sex trafficking ring here. Oregon churches should be commended for playing a leading role in helping expose local human sex trafficking.
Furthermore, Playboy never really involve "connection between the sexes". It was always about one sex in particular — women and they always alone disconnected from their clothes. America today could use more positive connections and communications between the genders. Pornography stand sonly to divide and exploit people against each other.
Note: Photo shows PoliticoMix linking of CNN story.